Whimsical Butterfly-Inspired Wedding Ideas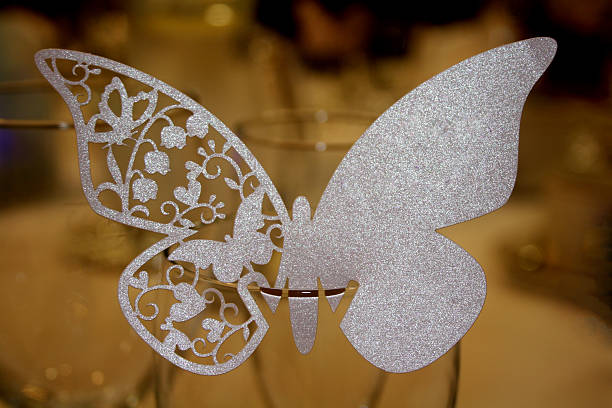 At our current home in Vietnam, the enormous butterflies I've ever seen fly in the water (I'm even looking at them as I type this). Gorgeous monarchs and these huge black ones that have iridescent blue wings. It's no surprise that I'm in love, as I am enthralled by this wedding editorial inspired by these beautiful winged beauties.
Hairpins, butterfly rings, necklaces, and veils. Beautiful name cards, cakes, paper products, embellishments, and even a dress with a butterfly! This wedding theme has so many ideas based on butterflies that you're sure to pin a particular detail or two to your wedding boards.
The butterfly-themed garden is far from "theme-y" in a light and airy greenhouse. The delicately shaped wings look as natural as ever. With a few little sparks of color and interest, this style could be attractive but not excessively extravagant.
The dreamy butterfly landscape was created by Magnolias on Silk and captured by Anja Schneemann.
From Magnolias on Silk
"Oh my Butterfly" is an original, playful, romantic take on a traditional butterfly design. To highlight this theme, we chose delicate colors like pink, peach, yellow, and light blue. To create a unified and well-detailed design and a stunning garden ambiance, We chose an ancient greenhouse in which palm trees from the castle nearby were kept during colder times of the year. It is also where butterflies were born.
The theme of this shoot continues with the wedding gown made by the renowned German creator Kaviar Gauche and features 3D butterflies on the dress. The light fabric also reflects the shoot's theme by resembling the delicate and delicate butterflies' wings.
Its wedding cake is also decorated with delicate butterflies, colored to match gold cake plates. Since butterflies are typically located close to flowers, we chose a garden theme with a colorful assortment of flowers, including dahlias and garden roses. Japanese anemones and crocosmia as the centerpiece and bridal bouquet. We also included grasses that appear like probes for butterflies.