We'd Like To See More Diversity In The Wedding Industry, Wouldn't You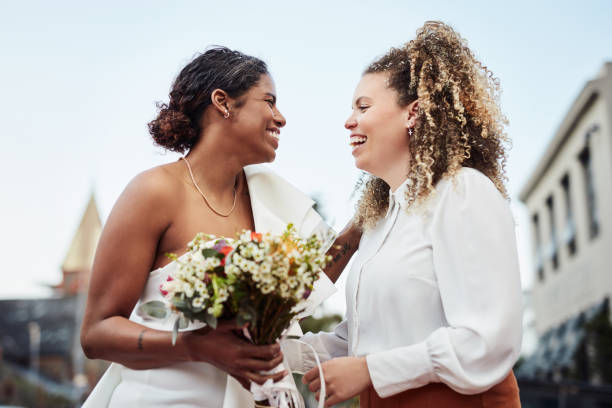 Wedding diversity has always been something we've been proud of and celebrated in Bridal Musings because we don't often get it in traditional wedding publications. We're sad and angry.
A few beautiful magazines are making leaps and bounds in this area. In our next blog series post, you can read more about them and an incredibly inspiring blog editor. First, I (Elizabeth) wanted to use this chance to discuss my view on the issue with everyone.
What's Wrong With This Picture?
A few days following Zee, we were engaged in August of 2010. I eagerly bought wedding magazines at My local WHSmith. While perusing the magazines, I first considered, "Wow, there are a lot of wedding dress ads." (Ha!) My second thought was, "Why is nearly every couple featured and every model in every shoot and advertisement white?"
There was more than just the question of race or ethnicity. There weren't any Asian and Jewish weddings or gay ceremonies in civil ceremonies (the UK hadn't legalized gay marriages at the time). There were no models bigger than 10 inches or people with disabilities…the list could go on and on. It wasn't an accurate representation of the diverse population of contemporary Britain.
Naturally, I was stunned and dismayed by what I read and, even more importantly, what I did not find in these wedding magazines. Mainly when I realized that the problem wasn't just limited to magazines. It was apparent to me that there was a perception that the UK or US wedding industry, as a whole, was focused on (and only represented visually) just a tiny subset of couples and brides, primarily thin, white, and heterosexual, as well as western. It was like I was transported back to the past. The pictures and the content in wedding magazines, websites, and blogs (especially bridal designers' websites and advertising campaigns) did not seem to represent the wide range of contemporary couples and brides.
For me, it appeared that fashion magazines and catwalks, often not representative of the diversity of females and body types, seemed to be doing better at offering diverse images and content.
Then why hasn't the leading wedding industry put its act together?
A Quiet Mission
So, when I began Bridal Musings, I set out to showcase various couples from different lives, backgrounds, and cultures and their gorgeous weddings. In addition, I wanted to feature images and posts that appealed to an extensive range of readers. But it was a quiet, personal, don't-rock-the-boat-so-as-not-to-offend-anyone kind of mission. I didn't write about one on my blog (apart from my Submission Guidelines) and one that proved far, much more complicated than I anticipated to achieve.
In the last four years, I have discussed different wedding themes (and the absence thereof). I've written the same post several times since the beginning of Bridal Musings in 2011 but never hit "publish." I wasn't sure whether I had the appropriate person in my life to speak about this topic or whether I could find the proper words to describe myself.
I'm not entirely sure, and the good news is that things have changed over the past four years, but we're still not there. As the editor of Bridal Musing Claire, I agree firmly about the lack of representation in the media, as I decided it was time to discuss it in a blog.
Everyone Is Welcome Here
At the heart of Bridal Musings is our dedication to be an all-inclusive wedding blog.
What this means, dear reader, is that wherever in the world you're located, regardless of your religion, culture, nationality, gender, religious beliefs, race, dress dimensions, capabilities, and socio-economic background (read"wedding budget") or sexual orientation, the type of wedding you're planning, whether a ballroom wedding or an outdoor wedding (or any other wedding in between!) We want to make you feel at home, and if you can, you will be represented in our blogs.
Weddings focus on celebrating love, and love is available in stunning designs, colors, and shapes.
(We're over-indulgent and want to show every wedding we can find worldwide daily!)
However, the reality is that the vast majority of our submissions aren't representative of the numerous and varied couples we write about and on behalf of. We can't be too sure that we may have accidentally been a part of the problem despite our efforts to make our writing more diverse.