Eclectic San Diego Garden Wedding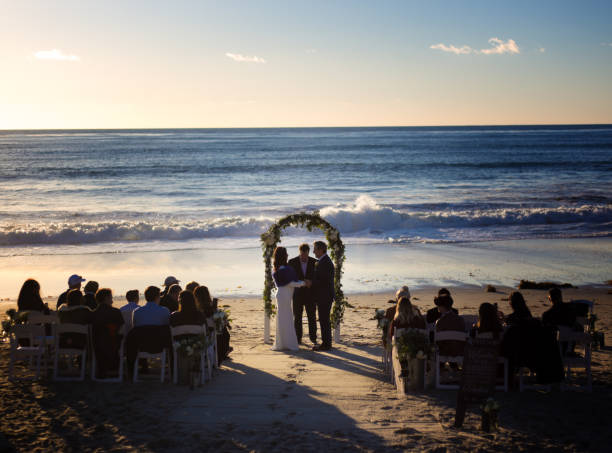 As our gardens are overflowing with irises, peonies, and roses and irises, we considered it the perfect time to share this beautiful wedding for a nursery packed with flowers and good energy for a great time.
To avoid sand for their ceremony (too adorable), Lindsey used her romantic proposal to get an engagement at the beach. When Deven agreed, the couple searched for the perfect location to say "I do's" and landed on Barrels and Branches, a nursery in the garden that isn't used to weddings. It was perfect for their flower-filled wedding.
Being the pragmatic gal I am, I'm for the idea of locating a venue that doesn't require too many decorations, and a nursery can be precisely what you need! It is awash in greenery, cacti, and flowers; Deven & Lindsey could concentrate more on what they are most passionate about, including fine dining and lots of dancing.
Need our suggestions on hiring and decorating a bare wedding venue space (i.e., not a wedding location)? We've got you covered. Expert advice.
Out Love Story
We first met in San Diego through the local rugby team. Lindsey was part of the squad shortly after I injured my ACL, which would keep me out for the remainder of the season. Lindsey and I lived a few blocks away in the same area, and her operation gave her a reason to drive me around and be an ally when I required one. Our friendship grew stronger and turned into something more following the surgery…
The proposal: Lindsey woke me up at a very early hour on a Saturday morning to go for an oceanside cliff hike. Lindsey knew that I would love the idea of having a wedding on the ocean; however, she was hoping that I would have an ocean-based engagement (she did not want sand in the wedding). …). She had little to tell me, but I figured out quickly what was happening when she fell to her knees. I replied, "Of course!" the rest is the story!
The Venue
After accepting Lindsey's proposal, we needed to determine the date and the location. We wanted something different that represented the mood of our daily living in San Diego, which we discovered in an Encinitas nursery named Barrels and Branches.
The Photography
We were looking for a photographer who was genuinely committed to telling the story of our wedding and our family at our wedding. We loved the fact that Jasmine's portfolios had more candid pictures than ones that were posed. She also took many photos of our guests having fun, just as we do. One photograph of a bride's mother watching her daughter at the altar stuck with us for a long time. The emotion and love captured in that image were why we knew Jasmine was the right choice.
The Planning & Vendors
Our location was a working nursery that didn't have weddings as its primary business; we had to pick each of our vendors, which was difficult. A friend of Deven's suggested our caterer chef, Joann, who was the perfect match immediately. She's been to ceremonies at Barrels & Branches before and offered various ideas for wedding coordinators, DJs, desserts, and rentals.
Favorite Moments
Lindsey's grandma officiated our wedding. With her assistance, we created our ceremony. It was a lot of work, and we devised a tradition we enjoyed. No additional bells and blows (though we did include an incredibly short handfasting ceremony! ), Just an opportunity to share the essential things before our dear family and friends.
Advice to Other Couples
A few tips I'd offer to couples that aren't in my circle is to discuss your budget and the aspects of your wedding that you both would indeed be interested in. Lindsey was highly interested in finding the perfect photographer and was the one to lead that, and I'm so pleased she chose Jasmine!
Once you have decided on a particular vendor, you can use their networks as a source, as they're in the field and typically have great recommendations. Additionally, it helps to make things more efficient, have established connections, and can work with others.
The Honeymoon
We traveled into Napa Valley for a few days, then drove to the ocean to enjoy some time at Mendocino, California. It was relaxing and gorgeous – exactly what we were looking for after a long and stressful few days of wedding planning and wrangling our family members.
For the final part of our trip, we stayed for two nights on the streets of San Francisco and rented a Vespa for the day to explore the city. This was an enjoyable and efficient way to travel around the city and could be the best time we've had throughout the trip. We'd certainly recommend it!