The Perfect Backyard Wedding for High School Sweethearts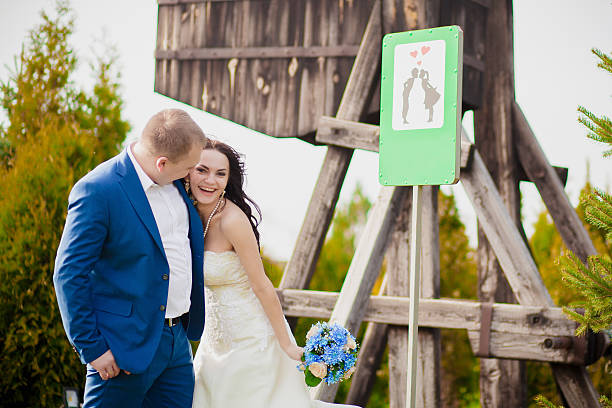 As a child, I always wanted to marry the boy who lived next door. I imagined a beautiful wedding in our family backyard. There was only one problem: there wasn't a boy next door, and our backyard was pretty small.
For Raychel & Cale, their big day was just that. This couple, who were high school sweethearts and neighbors, got back together in the last few years and created an intimate and romantic wedding in their hometown, where they first met and fell in love.
We're thrilled to share these beautiful photographs taken by Atley Marks.
Raychel completed the look by wearing a simple two-piece dress from BHLDN and adding flowers to her hair. She also carried a bouquet in soft pinks and whites. Cale, in a grey suit with a mix-and-match pattern, was also there. Her bridesmaids were dressed in blue.
The same pastor who had married Cale's parents conducted their romantic garden ceremony, which gave it a very personal feel.
After a garden supper prepared by the families of the couple, they danced into the night under fairy lights.
Our Love Story
We (and both our families) have grown up together. We dated in high school, and our parents were neighbors.
Like most relationships in high school, we eventually ended up breaking up and going our separate ways.
In honor of his Uncle, a softball memorial tournament was held last fall. The rest is now history.
The Inspiration
They live next door to us. They live "across the field" from each other. It was logical to marry in the backyard.
I wanted it to be as relaxed and intimate as we could. I've attended several weddings and know how stressful they can get. I wanted it to be fun, and I wanted my family to be there.
I wanted to keep everything as simple as possible. I wanted to give my bridesmaids, groomsmen, and ushers something they could wear again. I thought that blue was a neutral, pretty color that looked good on everyone.
Budget
They were amazing. They prepared the food for both the wedding and the reception. Three community members were asked to prepare food for our wedding. Instead of an open bar, my parents had two signature sangrias, two kegs, and three kegs.
As our reception was more a celebration than a formal one, we did not feel it necessary to give party gifts or other things of that nature.
My mother made a lot of our reception/celebration decorations by hand, saving us A TON of money. Our families and friends helped us decorate the day and night instead of paying someone else to do it.
The budget for the wedding and reception is likely to be around $6,000.
The Photographer
Atley was chosen because she's local and a natural light photographer. I saw her work on social networking a few years before I got engaged. I knew I wanted her to capture my wedding day one day!
I made the right decision in choosing Atley as our photographer.
She's not only a great photographer, she is also very genuine and kind. We love her!
Decor & Details
My mother-in-law calligraphed all the place cards and created a homemade banner using special fabric purchased from local quilt shops (Missouri Star Quilt!) My mother made a homemade banner using special material from our local quilt stores (Missouri Star Quilt!)
We sprinkled it on the beams of our venue. She made more than 100 feet. The forum felt relaxed, comfortable, and party-like at the same. The banner was made to stand out by the lights that were dotted around the beams.