Real Bride Diary: I Don't Wear Makeup, What Should I Do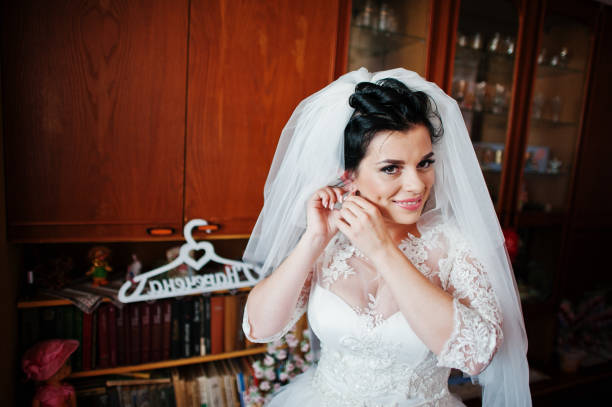 True, I've been naturally a babe over the past year or so. Many reasons slowed my daily makeup routine, mostly an obsession with wearing the "no-makeup" look, an environmental consciousness, and the trauma of everyday sexual harassment. It's been both inspiring and liberating, but now, since I'm getting married, I'm confronted with the question of how I should dress at my most glamorous event.
I'm a fan of fashion and am a huge fan of beauty. In addition, I'm a wedding photographer and am drawn to how beautiful flawless skin appears when photographed. However, this notion came out of my head: "Why on earth would I suddenly cover up who I am on this one special day?"
It began with anger. Construction workers who lived in the building behind, in front of, and behind my apartment were not content to harass me as I went to leave and yelled at me from my window as they were inside. At my workplace (the local wine shop), regular stalkers would appear to snare me into forced conversations while they were drooling and making snide remarks. All I wanted to do was cut off my entire hair and go unnoticed.
When I decided to stop wearing makeup, it was like an act of rebellion. The more I resisted and resisted, the more powerful it was. The more powerful I became, the more attractive I felt inside my naturally imperfect skin.
Yet, with all the precise bridal fashion styles I've put together so to date, I'm still unsure whether it's better to "look like me" or "look my best." I've thought about it for a long time over several options and am interested in hearing your thoughts.
The "No-Makeup" Natural Spa Approach
Another of my hacks to save money is, "Hey, if I don't hire a makeup artist, there's a few hundred dollars back in the wedding budget!" One aspect of me is thinking that instead of hiring an expert makeup artist, I could invest in spa treatments and facials during the months leading to the wedding day. In the end, I can showcase my flawless skin that doesn't require cosmetics (#bridegoals).
SupposeSupposeSuppose I wanted to achieve the "no-makeup" look (example above). In that case. In that case. In that case, I'd apply some bright, cherry-colored lips and cheeks with my favorite Olio Osso e French Melon balm, and then add a bit of sparkle from my moisturizer, the Weleda Skin Food combing and fill in the brows, and maybe even get eyelash extensions. No need to apply dripping mascara (I'm an absolute slob!)
The Makeup Tutorial DIY Approach
There's always a compromise, isn't there? I could up the intensity of my makeup yet still have control over "how me I look" by taking a look at professional makeup tips before heading off for Mexico.
My most frequent neighborhood spot for skincare. Credo provides tutorials in-store for makeup using every one of their cruelty-free, natural cosmetics. It's like a trip to three in one: I get to learn some amazing new tricks, I make my makeup kit more complete for weddings and other elegant events using eco-friendly products, as well as the opportunity to be me (and at a reduced price!)
The Once-In-Your-Life Glam Approach
Despite all I've written, I am aware that this is a great opportunity to throw caution to the wind and get glam. The pictures will be stunning, and I'll look pretty, my husband might be awed to see me dressed in this style, but I'm sure he'll admire me. It could be a bit odd to spend all this money on the right shoes, dress, and other items to get the "everyday" makeup look simply.
I have a good friend who was recently married in Mexico. She's a hot fashionista who is effortlessly stylish and doesn't wear any makeup (and the most important thing is that she's my wedding idol). She hired the top makeup professional in Baja and looked absolutely stunning.
I'm interested to know what you think of actual brides, past brides, personal experiences, preferences, and advice from experts. Please let me know in the comments below and join the discussion through Instagram and Facebook!!