Rustic, Rock & Roll, Barn Wedding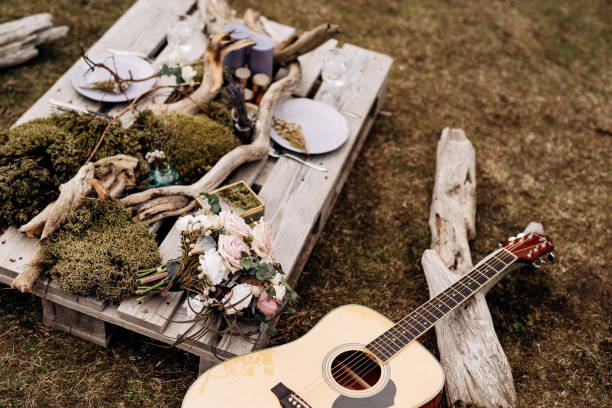 If people ask me about our wedding plans, they usually ask about the theme, decorations, small details, etc., but all I tell them is, "we really just care about how good the party is!" I think we discovered our common ground with Liz and Cliff when we decided to give them high-fives for their rustic, rock-and-roll Tennessee wedding reception.
Music was at the center of their plans – they hired the services of a Led Zeppelin cover band (oh my!) for the majority of the evening and afternoon and a well-curated playlist of rock classics as their DJ for the all-night celebration.
It's obvious that this wedding was a reflection of who the couple is more than the music; Liz picked a dress that was a reflection of "her." We love how stylish yet casual and comfortable it is. BHLDN gown is.
Our Love Story
We hung out at an on-the-top 4th of July celebration held in Chicago, IL, in 2012.
In the evening, I got home from work and went upstairs to my bedroom. He turned off the lights on me and wrote, "Liz, will you marry me?" in glow-in-the-dark stars.
The Dress & Attire
We wanted to create a rustic atmosphere but not too country-like – since we're not huge country lovers and it was also August, we wanted to ensure everyone was at ease.
I was looking for an easy-to-fit dress that felt "me," something I could feel myself in.
The bridesmaids wanted something distinctive, so  I picked two-piece dresses for my bridesmaids by Jenny Yoo to allow them to switch between the tops and bottoms to suit their preferences. They were airy and light with neutral colors that I think helped the dark flowers stand out.
The groomsmen were dressed in grey trousers and grey suspenders, white shirts, burgundy ties, and shoes. The groom was wearing grey with a vest and black accessories, including a link and shoes.
The Wedding Venue & Style
We wanted a rustic, rock-roll wedding!
Being a farmer's wife was not the wedding I had always imagined, but we did make sure to incorporate autumn shades into our wedding flowers, attire, and décor. We opted for a barn-themed venue located in Tennessee to keep the wedding intimate and to include some action-packed scenery!
We planned the wedding because our goal was to have it be a reflection of our relationship as a couple. Our vision was to have it relaxed with lots of fun and live music!
The Flowers
The flowers were amazing! It's funny, actually, because flowers were the last thing I was concerned about. One of my quotes was, "Flowers are dumb, no one remembers the flowers at a wedding anyway." It's true, you'd be able to remember them if you were at our wedding.
I provided my floral designer with some ideas and the colors I had in mind and let her play through the idea. They were breathtakingly beautiful. Our guests have been talking about the flowers!
Favorite Moments
There were so many memorable aspects! The cocktail hour with entertainment was fantastic. It was something like a private show for our guests and all of our guests.
The first dance we had was "Thank you" by Led Zeppelin. We're not the best dancers, so we went to dance classes before the day of our wedding. This made the day extra special.
We sang songs to each of our grandmothers whose spouses had died. When my grandfather and grandmother sang their music, I was dancing along with her when she started to cry and then swerving away. When she was about to step away from the floor, my husband Cliff intervened and took her away for the dance. Her face was glowing with joy!
In the initial moments of this ceremony, I had only got to the front and was completely lost in looking at our guests that the officiant needed to grab my focus. It was like we were completely present and at peace; I was taking everything in!
The Planning
The two most important aspects to us were food because we're big foodies and awe-inspiring classical rock music lovers. We booked a live rock band called the Dead Ringers, which is a Led Zeppelin cover band, for our wedding ceremony and cocktail hour.
The bridal guests were walking through the aisles to "Going to California," and I left into "Over the hills and far away". The reception took place at the same time. We hired a DJ DJ. However, we made sure that there was a comprehensive schedule of the music the guests wanted to hear. The night was a party. I don't believe anybody was ever sitting down!
DIY Details & Decor
We did not use table numbering but instead labeled the tables with Classic Rock band names: Tom Petty and the Heartbreakers, The Rolling Stones, and Led Zeppelin. We designed table markers and seating charts based on that.
We set up a wedding memory table to honor those who had passed away but could not physically join us. We designed welcome bags for guests to give to them at the rehearsal dinner. We made a guestbook tree made of wood, and guests wrote their names on the leaves.
Cliff is a huge fan of Honey! We made miniature jars of honey made from wildflowers with labels personalized to Cliff, tied with lace, wrapped, and tied with string! We also made personalized cookies!
We're no longer "cake people." We instead had the dessert table, which included the best of our favorite things, such as mini pies, donuts, and popcorn.