Intimate Hawaiian Destination Wedding Featuring An Inspirational Aisle Runner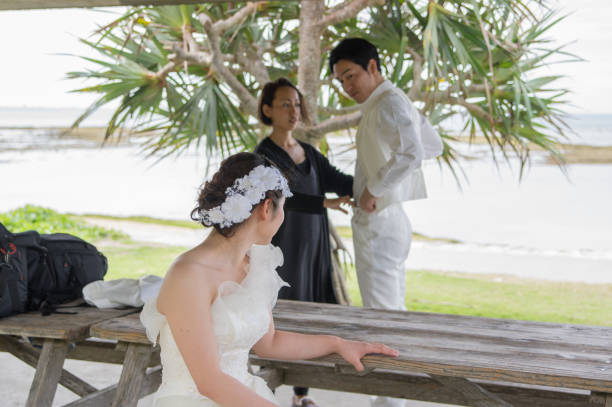 We often discuss creative ways to add some personal touch to your wedding destination. It can be a challenge! Traveling across continents and oceans with limited luggage, traveling local style, and with no time to do DIY projects is hard.
This year's Maui destination wedding has not just the stunning Pacific Ocean hard views we would like to see at the perfect Hawaiian wedding but also a wonderfully inspiring piece of décor.
The wedding of Matthew and Catie in the Sheraton Maui is stunningly romantic with lush flowers, wild greenery, and a gorgeous drape, as one of the most beautiful aisle runners we've ever seen. Inandhite, and in stunning scroll calligraphy, is their inspirational piece. We can only imagine the possibilities for what they can write on their personalized aisle runners!
Our Love Story
We had lunch together at work. We were both engineers and shared a desk for about a year. We began hanging out on weekends outside of work, eating food, and going with our doggies to the park. Our first date was to attend an LSU football match (GEAUX Tigers!)
We had a visit with family members over Christmas in West Virginia. He convinced me I should take my dogs out in the frigid cold. We hiked to the summit of a hill with a breathtaking view of my family's land. Matt fell up on his knees and requested that I marry him. Of course, I accepted.
The Dress & Attire
My dress was an ivory floral embroidery gown with a sweetheart neckline and an open back. I visited a wedding salon in New Orleans ( Town and Country Bridal) and tried on various dresses. On an impulse, just before I left, I decided to try on the Hayley Paige dress that was on a mannequin in one corner of the salon.
When I put them on a mannequin, it was the dress for me. The dress was perfect as romantic and had a train, but easily movable and comfortable.
Matt was dressed in a classic blue suit. The tie was purchased from the local store in New Orleans (where we live) and was decorated with tiny alligators on it. We thought it was a suitable method of bringing a tiny bit from Louisiana into Hawaii.
The Destination
We decided to have a small, intimate destination wedding. We'd visited Hawaii with our families several times and enjoyed the place. We chose The Sheraton Maui due to the stunning views overlooking the Kaanapali Coast coast. Nepali coast.
Favorite Moments
There were many fond memories and stories to tell from the day. The first photo was extremely special as we were both anxious, but being with our faces, sharing extraordinary us, and exchanging all those emotions was precisely sharing.
Simply taking a few minutes during dinner to gaze out at the guests who took the way to support us was an inspiring and simple reminder of how lucky it is to be surrounded by such wonderful families and friends.