Iceland for Two: The Perfect Honeymoon Package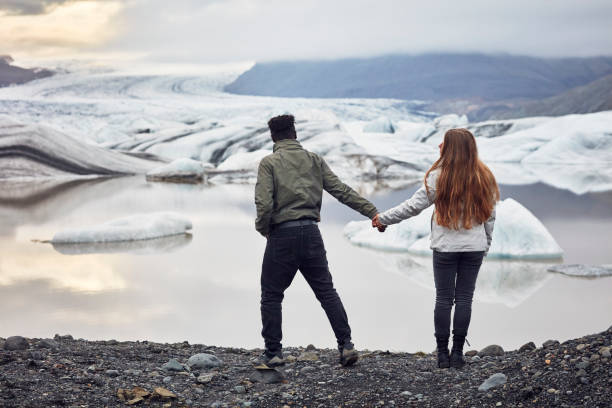 What makes a perfect Iceland honeymoon? Wild adventures and luxurious spa days. Unobstructed views of the landscape and a taste for Icelandic culture. Iceland honeymoons combine an exciting experience and ease.
We wanted something wild and luxurious when planning our Iceland honeymoon—Icelandic horseback treks along the black sand beaches under volcanic cliffs. We dreamed about a road trip where we would stop at each hot spring and soak in the spray from rushing waterfalls.
Our Iceland honeymoon started with champagne, enviable comfort, and our Icelandair Saga premium-class flight. The flight from Portland to Reykjavik took just seven and a half hours, which felt like flying on the East Coast. Reykjavik is now accessible from 37 cities in Europe and the USA.
Upgrade to Premium Class if you have the budget. It will make your honeymoon trip even more romantic. Saga Premium Class is not only more spacious and comfortable, but it also comes with perks that make your journey even faster. Enjoy express check-in, security, and boarding. Enjoy unlimited snacks, complimentary drinks, and a unique dining menu.
Iceland Honeymoon itinerary:
 Where we're going…
Icelandair assisted us in creating an alternative itinerary. Icelandair helped us create an alternative itinerary that featured iconic Icelandic features like hot springs, beaches, waterfalls and volcanoes but felt more romantic and secluded. Our itinerary included a trek through Iceland's countryside, which was a dream come true for us since we were riding the fluffy Icelandic horses back home.
Our Iceland honeymoon road trip took us to the beautiful Snaefellsnes Peninsula in the North, then the wild and untamed North, and Reykjavik, Iceland's capital. We've created our perfect honeymoon itinerary. You can customize your honeymoon by choosing from various unique locations, tours, hotels, and ideas.
West Iceland: Snaefellsnes Peninsula
My Icelandic Horse trainer who lived in Iceland gave me a secret travel tip. "Snaefellsnes" is the most beautiful place in Iceland. It feels almost unexplored. Many Iceland honeymooners will travel south after landing at Keflavik. However, those who want to spend their honeymoon in seclusion and romance can go west. We always take the advice of locals seriously and chose this stop as our first on our Iceland road trip. It was like driving through one of the most beautiful national parks in the world. We found few tourists.
What to do in SNAEFELLSNES
Snaefellsnes is one of Iceland's national parks and boasts an untouched landscape—witness towering waterfalls, basalt cliffs unique to Iceland, and snow-capped mountain peaks. You will be spoiled with beautiful views as you drive along the coast. Snaefellsjokull, the highest peak in Iceland with its glacier, is a sight. Stop and hike around Kirkjufell for the best views of the mountain.
Lysulaugar's geothermal pools will soothe your muscles after your waterfall hikes. Unlike the spas in Iceland, the swimming pool and hot tubs are a local secret. Icelanders love this spot, as do savvy travelers passing through. Relax beneath volcanic cliffs and listen to the neighs from wild horses.
You can enjoy the traditional bathing circuit at Lysulaugar. Then, plunge into an ice-cold water bath. After that, you can rewarm up your muscles by swimming in the pool at a medium temperature. Then, for around $10 US per person, you can heat up the experience with soaks in two hot tubs. You'll leave feeling like you received a complete body massage.
Where to stay in SNAEFELLSNES
The approach to Hotel Budir is like a scene out of James Bond. With waterfalls and volcanoes on your right and the ocean on your left, it feels as if you are in a James Bond movie. You will notice the famous black church and the Scandinavian hotel within a few km of your arrival. Only the hotel's views are more picturesque and charming than those of the drive-in.
Hotel Budir is a luxurious hotel with a charming design. It offers a panoramic view of the mountains, glaciers, and waterfalls. A world-class dining experience is also included. The hotel has been credited for modernizing Icelandic cuisine. It is also a destination for foodies and a luxurious rest stop on the island. For couples who are planning to elope or have a wedding with their Iceland honeymoons, the black chapel Budakirkja is a must-see. This is the perfect location to say "I do," paired with luxurious accommodations and dining.