Hawaiian Beach Wedding With Our Dream Boho Wedding Dress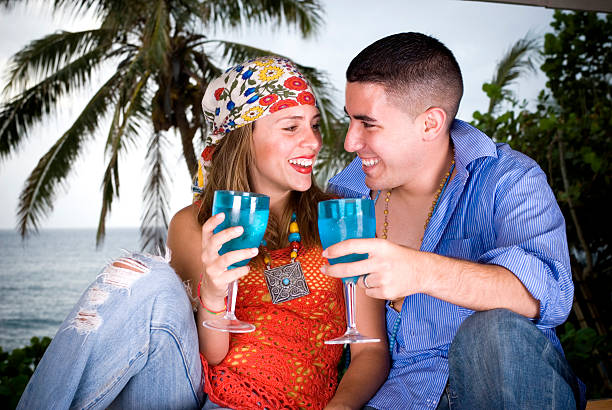 We've been feeling Hawaiian wedding vibes recently – and who could resist being transported to the most idyllic locations? The wedding of today's Oahu wedding could be somewhat similar to other weddings (remember this wedding held at the Loulu Palm Estate?); however, it has a certain intrigue: the dream wedding boho dress is making an appearance!
Jesse and Jessie (so adorable that we can't bargain) haven't chosen Loulu Estate simply because of its stunning beauty or fame. It was a unique location for them to begin their relationship. They were long-distance lovers; Jessie (bride) would visit Jesse (groom) on their trip to the North Shore of Oahu – dancing in his kitchen and going on long walks to beautiful locations like this.
So, the venue for the wedding was a no-brainer. Jessie did not have trouble finding the right dress for her Oahu beach weather. I have been searching for boho-inspired fashion designer Rue de Seine for some time (us too, we do!) She was in love with this super retro tie-top wedding dress. The dress was light and airy, decorated with bohemian embroidery, perfect for the humid Hawaiian day.
Our Love Story
Jesse was a high school student as a water polo player alongside my brother-in-law, Grady. Jesse worked as a Marine Biologist and spent much of his time traveling while I was doing a lot of travel on my own, so it was fate that we never even met.
When Grady invited Jesse to dinner with her in 2005, the sister of mine got to know him and fell in love with Jesse. He was not even out of her home before she started messaging me that she wanted to see him. I was hoping for a moment of self-discovery, and the man was involved in a relationship, so it was a "no-go." However, after the relationship ended, I received a flurry of emails from my sister urging me to meet him. She tried to make us complete for ten years, but I stayed away from the guy at all costs. I did not attend any events I was told he was listening to or stayed away from parties I had heard he was coming to.
It was my turn to attend a ceremony in Santa Barbara, and at the reception, the host, a tall and handsome man, came across to greet my sister, whom I was sitting with. Then, well, you could claim that the rest is the story.
We stayed up late that night, talking till the early night, and we met the next day during the reception. We exchanged numbers, and on the way back at the end of Sunday's drive, he arranged to meet me on Monday. We had a drink, and even as that excitement over the marriage finally passed, the chemistry was as intense as it always was. I rang my sister while driving home and told her, "You heard it here first: I am going to marry this man."
The Proposal
After we had met, Jesse received a job offer to work in Hawaii on the Hawaiian island of Oahu. Before his departure, I asked him to become his girlfriend of his (in the most adorable manner that any 5th grader could think of). We even decided after three months that the trip was worth it, and who wouldn't desire a beautiful motive to go to Hawaii?!
We traveled long distances for one time a year. We enjoyed many romantic nights listening to Sam Cooke in his living room while it rained outside. We enjoyed every sunset we saw together and laughed through the island while exploring every corner and crevice. Then he returned to LA, and around that time, I was in San Diego, and we did another year-long distance. At this point, we made plans to go to my family's cabin at Lake Tahoe in June to enjoy a short summer vacation with each other. We were there for fifteen minutes before the snow started to fall outside.
We viewed it from the window, and he insisted on standing outside. He began acting silly, kissing my forehead repeatedly as he brushed his pockets. I thought he ought not to try to convince me of my wedding before cleaning my teeth or washing my hair, so I came up with an excuse and told him, "Let's pour a drink first!" While he poured drinks, I rushed to the bathroom and did what I could with a bit of brushing.
I saw him on the terrace looking out over the lake. The sun was shining, and yet snowflakes fell all around us. He claimed it was magical. He kissed me on top of my head once more, cleared his throat, and asked him an idea. I looked up and knelt on the ground with rings in his hands. I could not sleep after that, he said. I put my hand on my mouth, shouted, and then jumped up on his shoulders and hugged him. I quickly forgave him for proposing to me while wearing identical Patagonia jackets. Now, it's one of my favorite things about the wedding proposal.