Glamorous & Modern North Carolina Loft Wedding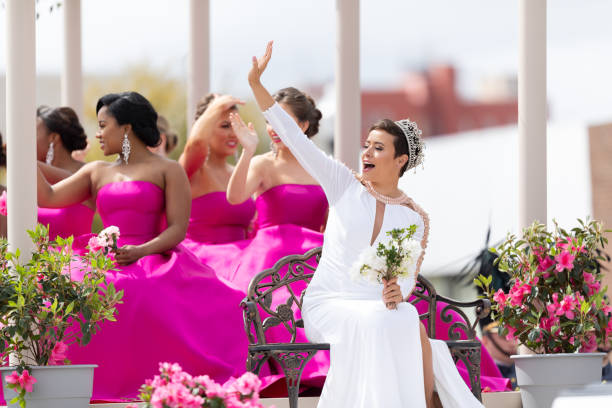 We all know the way we adore a simple wedding venue as a blank canvas is a wedding planner and stylist's wish! Therefore, we can only imagine how enjoyable it was decorating Jasmine and David's elegant North Carolina loft wedding.
With stunning draping, gorgeous flowers, and a classy outfit, Loft at Plant Seven was transformed from an industrial setting with bare bones into a soft and pretty wedding scene. The big windows provided beautiful lighting for each portrait (such an award for three-region photography!) and dramatic pillars that gave the landscape a rustic look.
The details pop out if you're in an open, bright, and spacious venue, Nothing catches our eye more than Jasmine's gorgeous Blush Hayley Paige Mermaid wedding dress. The dress was a no-brainer for lace or beading; Jasmine was wowed by the dress she never imagined she'd like from the start (and we suspect the reason why!) We're proving that you must always try to wear a "wild card" dress!
Our Love Story
David and I became acquainted through two of our mutual friends. David first saw me during a graduate meal in May 2013. However, David didn't try to introduce himself since he felt I wasn't like someone who was quickly contacted.
In September 2013, I was at a birthday party and didn't realize I was stepping into David's home. After greeting the guests, I talked to one of my friends. Soon after, David came out and wanted to speak to me.
We went over the general background questions, and I discovered that we both hail originally from North Carolina, graduated with Industrial Engineering degrees, and were both consultants. It seemed incredible that we shared everything in common, and I agreed when he asked for my contact number. The rest is history.
The Proposal
Jasmine and I were planning a trip together to Italy, and I thought it was a great moment to propose. The photographer I chose was from Italy, and we planned to stay at the beach at Positano Beach.
We walk down to the beach, and I tell Jasmine we're waiting for the dinner cruise. In the meantime, I'm scouring the area in search of the photographer. I glance at a man and squint my eyes at him, asking, "is it you?" The man smiles at me and walks away from behind an unassuming bench.
I look at my camera and ask to take pictures of us. He agrees and points out the beach area with the most stunning view. The photographer snaps some photographs, and I convince Jasmine to turn her back while I grab the engagement ring. When she comes back, I ask her.
The Venue & Style
We're in Atlanta. However, the two of us are North Carolina natives, so we knew we wanted to be married in North Carolina. It was also crucial to me that the location was distinctive. The industrial-chic style of The Loft At Plant Seven featured an unfinished edge that added the character it needed but was also polished. We loved the big windows that let natural light in, as well as the spacious layout that allowed us the opportunity to create the space our personal space.
The setting inspired the color scheme. I loved that it incorporated a crisp, natural palette that created a light and airy mood. In choosing the decor, I opted for a 'less is more' stance and focussed on greenery and white florals as the principal design elements. We opted for white drapes for softening the rustic look and striped ivory linens with a simple table setting, accentuating the greenery by adding gold features.
The Dress & Attire
When I began planning my wedding dress, I knew I wanted a mermaid-style dress with an elegant neckline. After attempting on several gowns, I settled on against beads or lace. However, when I put on the Blush Hayley Paige Reece Gown, my eyes instantly became frenzy. It was unlike anything I'd seen before and was the opposite of what I would have liked. It was gorgeous with Marrakesh beads, cashmere lining, and a flowing skirt with horsehair trimming. After some dance moves, I couldn't resist looking at it and knew it was just the right dress!
David was looking to dress in a black tuxedo therefore, we chose an elegant and traditional look at the wedding reception. The groomsmen donned black tuxedos paired with Skagen watches, and the bridesmaids wore black chiffon floor-length gowns made by Azazie. I wanted to incorporate some color for the bridesmaids, so the florist included cappuccino and Sahara flowers to bouquets. She tied them with champagne silk chiffons and white silk streamers, which were a gorgeous contrast to the bridesmaids' black dressesk.
The makeup artists came up with the perfect makeup for me. I don't usually wear makeup and was concerned about not looking like me for my big day. I expressed my concerns to her, and she created the perfect dewy look, with soft eyeshadow and big red lips that made me feel more like me and my bridesmaids.