Industrial Chic Brooklyn Winery Wedding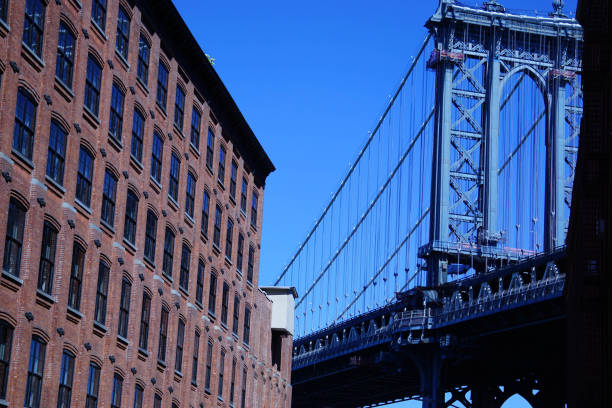 I am so happy to share some love for my hometown in the present by sharing these photos of the Brooklyn Winery wedding, just only a few steps away from my (former) home. The wedding was shared from local photographer Williamsburg Photo Studios The industrial wedding brings a bit of nostalgia from our honeymoon all over the world.
Jacqueline & George chose the Brooklyn Winery for its elegant yet rustic appeal. The winery offers local craft (beer and whiskey! ) and vintage ambiance, as well as lots of contemporary industrial vibes, it's "Brooklyn". The steel wine barrels have been softened with beautiful florals along with wild greenery and warm wooden furniture, the interior is warm, inviting and modern.
I have been a guest and attended a handful of weddings at the iconic Brooklyn venue It is always enjoyable to see how couples manage to make this legendary location their very own. This day was a dream. the venue was pulsing with a live band, and the flowers were extremely personal, with four-leaf clovers to match our elegant Irish bride.
Our Love Story
I first met George at the time my best friend began working with George. I was in love with him the first time we had met!
George amazed me by proposing! He informed me that we would be going out to an unexpected surprise for his parents' friend's anniversary celebration on an afternoon on a Sunday. The friend was involved who confirmed the time, date and venue the "parent's surprise party".
We arrived and were welcomed and informed that everyone was in the back of the room, waiting for the couple to show up. We walked into the back, and found crowds of people gathering for the party that was being held – but they were there to celebrate OUR surprise party! George also flew my parents, sisters, aunts and cousins from Ireland to attend. Every person I know and love was there. I was absolutely shocked.
After all the kisses, hugs as well as tears of my closest family members whom I hadn't seen in over an entire years, George took me back to the middle of the room. He got to kneeling, and pulled out the ringbox. I accepted! Then, just as the music started an army of marchers entered the room and started playing our favourite track that we love – "I Can't Take My Eyes Off Of You" by Frankie Valli & the Four Seasons. The song was a surprise to everyone and was a great hit. It was a wonderful day and night I will always cherish and cherish.
The Dress & Attire
My dress was purchased in Ireland and I went going shopping along together with my Mum and sisters. My mum actually chose the wedding gown! When I put the gown on I was certain it was meant for me. An original boho-inspired dress featuring geometric beadwork details from the top to the toe. a neck illusion with a high neck and a matching illusion back and completely affordable to me. It was just what I wanted.
George dressed in his favourite, J Crew Suit Shop. Navy blue, paired with a baby blue t-shirt and a navy blue and pink flowing tie and a blush pink handkerchief and brown double monk straps.
The Venue & Style
Our wedding theme was a reflection on us as two people. We are awestruck by everything and everything stylish, rustic and with a hint of elegance. That's exactly the kind of experience Brooklyn Winery offers in a chic, modern urban environment.
Our color scheme was simple to choose, we chose blue for our guys at the bridal celebration and natural pink for the ladies. The flowers were perfectly integrated into our vision by the experts Jay & Al (highly recommend) from Fleurs Du Mois and designed a rustic and soft style throughout the venue as well as the wedding party with whites with blush, creams and greenery and tall taper candles. vintage candle handle holders as well as buds cases. The flowers unified our vision more than we could have thought of.