Elegant, luxurious, and utterly pretty London wedding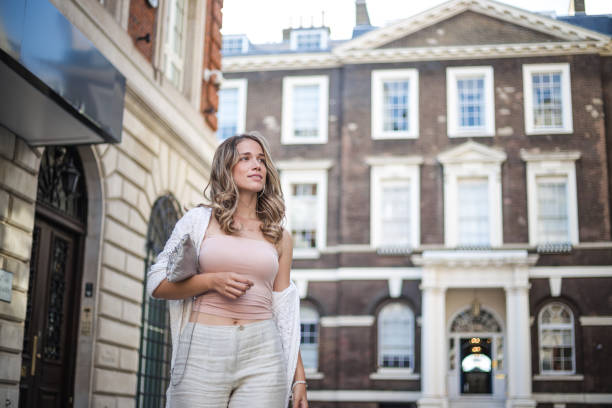 You end up using a lot of flowery words to describe the big day for couples when you are paid to write about actual weddings.
It's the first time that I have used the phrase 'luxuriously whimsical" to summarize a person.
When I saw the spectacular reception of Georgie & Scott, my first thought was "Gasp!" '.
Their floral-filled celebration was captured and styled by Knot & Pop. We know that you will gasp as well when you see this.
The wedding party was elegant and stylish, with Georgie wearing a vintage-inspired dress, the bridesmaids dressed in mix-and-match dresses, while the groomsmen looked polished in black tuxedos.
This California couple held a classic London wedding, complete with a red bus ride and a reception at the heart of London's historic district, which was filled with English florals, both fresh and paper.
The banquet hall featured a mix of luxe and whimsical decor, including floral centerpieces that towered over the table, glass domes reminiscent of fairy tales, pastel paper products, and napkins, as well as state-shaped cookies.
Here's how to create an elegant, classic English wedding that is also sweet, personal, and fun.
Our Love Story
Scott proposed while we were at his parent's house on Lake Lanier, Gainesville, in Georgia.
Scott had asked me the night before if I would like to get up early the next morning to see the sunrise. I was surprised by this request, as I'm not a morning person. Scott explained that sunrises are spectacular on the East Coast, and since we live on the West Coast, we should be able to catch one during our trip at least.
I was so sleepy that I didn't notice Scott had put up a hammock with cushions and blankets on the shore of the lake. When he proposed, it was an amazing surprise.
The Inspiration
The pastel color palette was chosen because we loved the freshness and lightness of the venue, which had a lot of wooden panels.
We wanted to use a lot of flowers in order to achieve a lovely English garden look. Knot & Pop was then tasked with interpreting the overall look and feel of the project across the entire space, including all the details.
I also had my heart set on a seating plan in the style of a banquet. The flower arrangements that flowed down the middle of the tables were ideally suited to this set-up.
The Bridesmaids
I also recommend Twobirds as bridesmaid dresses.
The multi-way wrap dresses are suitable for all body types. This is particularly helpful when you have bridesmaids ranging from 5'2″ to 6ft tall!
The Photographer
The Curries is a husband and spouse photography team.
As soon as we saw their portfolio, we knew that we wanted them to be the photographers for our wedding.
They captured all those candid moments we'll want to cherish and kept formal group photos to an absolute minimum.
The Flowers
Our florist was Lavender Green Flowers.
We were treated to a beautiful mix of flowers – English garden Roses, pale peach and cabbage roses; Sweet Peas in shades of ivory, pale pink, and lilac; Bombastic Spray Rosebuds Veronicas in ivory, lilac, and ivory; Stocks of all colors.
Each design had a base foliage, including Eucalyptus, which is a soft green/grey foliage with a pleasant scent.
Decor & Details
Knot and Pop suggested adding a touch of copper to the pastel color palette to add warmth. They then decorated the tables using copper cutlery and spray-painted copper table numbers.
The designers also came up with the brilliant idea to transform the lower gallery into a members' club with the addition of sumptuous furnishings, sourced rugs, and pastel cushions with paper flowers in glass domes.
We collaborated with Some Kinda Cute, Knot & Pop, identifying a Ready to Go collection that suited our theme. All it needed was a color and paper adjustment to tie everything together.
We were in a hurry and couldn't afford a custom design, so we were grateful to find the perfect solution that suited everything. Knot & Pop had the brilliant idea to create paper flower place cards that tied into the paper flower touches on the table plan, decks, and tablescape.