Stunning & Intimate Greek Micro Wedding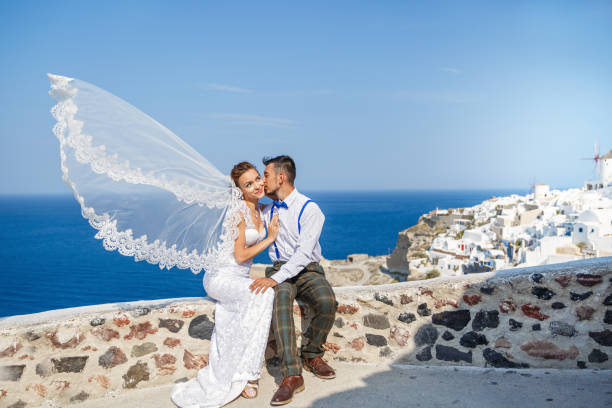 Sometimes, weddings are such a dream, so utterly stunning, that it is difficult to put the event into words while we look at it in a stupor. In awe of this gorgeous micro wedding at Kefalonia, Greece, we'll let the incredible and talented photographers Vesi and Yiannis Simopoulos speak for themselves…
Within the Ionian Sea, Kefalonia, an island with a unique beauty, symbolizes the bohemian style of living and celebrates the freedom of the wedding to the fullest extent.
The guests were welcomed at the beach with cocktails while sampling local fruit and delicious delicacies. They were treated to a big surprise by the guests with an original guest list of big bottles – people from all across the globe. A jazz group, attired in white, played along the coast, at their arrival and in the evening at dinner. The laughter was in the air. All of it spoke of great times to be.
They witnessed the wedding's special moments on the floating platform, decorated with flowers and lianthus, nestled in lush wild greenery. The guests wore white hats and cheered the untidy Harper, who came from India, and Sita, who hails from Tibet. A perfect match at the ideal location.
The spectacular dinner occurred near the river's green junction point and along the blue coastline. Small transparent vases from the past held the lisianthus, garden roses, the stunning local wild white blooms, and the Prickly pears. They all formed the centerpiece of the table.
The couple then took a photo shoot at the Xi beach's shoreline, with the backdrop of a stunning, sharply cut clayey landscape exotic, which was in line with the theme of the wedding.
The bohemian style in Vatsa Bay was the perfect location to host guests from different languages. They spoke the same speech over tasty local cuisine and the well-known Kefalonian wine.
Our Love Story
Sita visited Kefalonia for a vacation in the year 2018. She had a conversation with Harper there, who was visiting from London.
They were instantly in love, and their fantastic story began.
A few months later, Sita moved to London to pursue a master's program in Fashion Design. They were able to move in together. After the season, they returned to Kefalonia in the summer, where Harper proposed to marry Sita on the beach with a sunny view at Vatsa Bay. They were to marry on the same beach where they first began their relationship.
The Destination
We picked the venue without any hesitation because of its location, which is unique, and the warm welcome of the owners, Europi Antonellou, who made us feel as if we were celebrating in our own home. We experienced the warmth that Greeks are most famous for, and our guests walked away with lasting memories.