Minimal & Refreshingly Simple New Wedding Dresses By Aesling Bride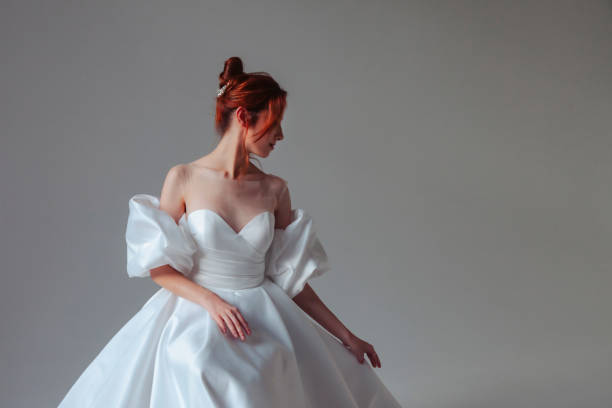 In a move towards minimal and fresh wedding dress designs, modern brides are now looking for a minimalist way to celebrate their wedding. The modern Vancouver, BC-based brand is in tune with today's contemporary bride with a sleek and straightforward approach to bridal fashion.
The collection is a refreshing take on wedding attire for those who are modern; Aesling Bride unveils their second collection that shines with simplicity and quality. The 2021 wedding dress collection is designed specifically for brides looking for timeless clothing. From the same manufacturers such as Truvelle and Laudae, Aesling Bride is their more minimalist, contemporary, and artistic cousin.
Aesling Bride creates dresses designed to be inspired by form and architecture. Every collection comprises just three fabrics, based on the conviction that quantity does not mean better quality. The current collection includes supple crepe, stretch satin lining, and a light organza that lets the design carry volumes yet remain lightweight and airy.
They have a style reminiscent of modern women seeking flexibility for their wedding dresses and throughout their lives. The styles range from size 1-26, priced around the $2500 mark, and are therefore affordable to brides who want to buy from a business that is aware of the changing world of our present.
What We Love
Aesling Bride designs modern bridal gowns with high-end design and exquisite fit. The tops are designed to be structured and strapless, so the structures remain in place and do not feel uncomfortable. The waistlines are clean to highlight your body and allow you to move throughout the wedding.
We love that Aesling's crepe fabric is thicker soft and silky. Brides, that's wrinkle-free photographs, even when you wear tailored styles. Sizes range from 0 to 26, and the team tests thoroughly using fit models to ensure that their fitting is outstanding.
The brand makes minimalist dresses on being made by hand in its bright and airy production studio in Canada. We are in awe of Panacea with her puffy silk sleeves. This design is a structured-meets-whimsical fantasy. Other notable styles comprise Aurora's perfect full skirt, illusion cut-outs, and Gossamer's classic square neckline.
With a few simple steps, wedding brides can discover their style, whether perfect flowers, jewelry accentuating their class, or combining any of these elegant designs with a stunning natural backdrop for your ceremony.
From Aesling Bride
Aesling originated from the Irish word 'aisling,' which refers to the vision or dream.
These 2021 gowns were named after distinctive words with beautiful meanings, such as Sonder, which means to bend or move gracefully.
This year's editorial collection was photographed in natural light and the interior's concrete. This provided a stunning contrast to the crepe gowns and echoed the notion of beauty in the simplicity of things.