How to prepare your hands and nails for your wedding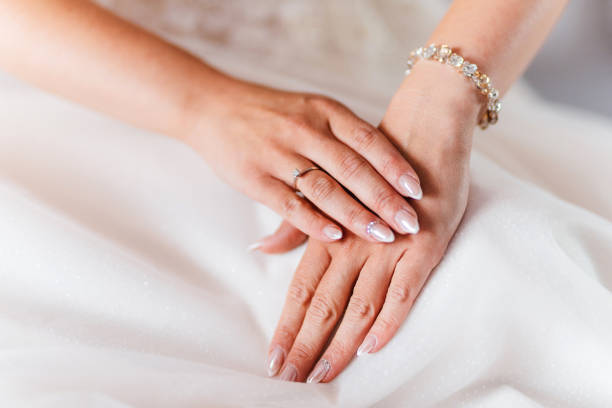 Your hands will play an essential role on your wedding day. All eyes will be on you, whether a bride or groom, as you place your wedding band on for the first time.
You may be a fanatic of manicures or have never used hand cream before (shock, horror! You'll want to prepare your hands before your wedding to look their best.
Lucy Vardy is the owner and head therapist of Moon and Stars Beauty Therapy, a London-based beauty therapy clinic.
Lucy is an expert on skin issues, including acne, hyperpigmentation, and dehydrated skin. She believes that everyone has the right to feel good in their skin. She takes a holistic view of all skin treatments.
Who better to help us banish flaky nails, dry hands, and chipped manis? Take it away, Lucy…
Your wedding day is the most crucial event in your life. Nothing is more embarrassing than having your partner slide a ring onto a dirty, neglected finger.
These ideas may be helpful if you are looking for tips to ensure your nails and skin look healthy when wearing your new wedding ring.
You Can Hydrate Your Nails
Cuticle oil is the perfect product to hydrate your nails, just like you would your skin.
Cuticle oil penetrates deeper than hand creams and is ideal if you have dry or brittle nails.
Look for ingredients such as Vitamin E, almond oil, coconut oil, or jojoba in a cuticle cream. These are the best for hydrating.
Shaping, Buffing & Painting
Even if your nails are neutral, you should still shape and buff them for a smooth surface.
You can still use a clear topcoat if you don't want to color your nails. It will make them look clean and healthy.
I recommend using soft pink or light nude nail polish to ensure your nails are uniform and unblemished.
How to Preserve Your Mani
There is nothing worse than ruining your hard work days before the wedding.
Avoid using nail polish removers containing acetone and toluene, which will dehydrate your skin.
Use rubber gloves when cleaning your hands or nails in the weeks leading up to the wedding. Also, moisturize your skin after every wash.
You should book a professional manicure at least two days before your wedding.
Excellent tips. This is excellent advice for grooms, who may refrain from indulging in pre-wedding treatments. However, even if you plan to have a professional manicure before your wedding, your nails and hands should be in excellent condition well before then.
You can learn more about Lucy's holistic treatments at Moon and Stars Beauty Therapy.