Garden Weddings Are In! This Editorial Shows How To Style Your Space Effortlessly…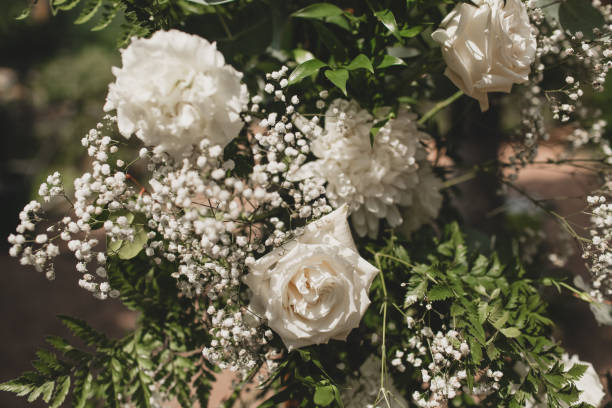 There's a massive increase in garden wedding editorials and actual wedding submissions. It's not a coincidence! Weddings surrounded by gardens, filled with lush greenery and flowers, are becoming more sought-after daily!
Danni LaRaia Photography wanted to take our attention to a hidden garden that we were happy to accommodate; before, barn weddings were rustic, with a country style. This barn venue receives whimsical and wild wedding flowers.
Looking through this fantastic editorial, you'll see all sorts of details culminating in a simple, fun garden wedding. Instead of controlling these wild and overgrown flowers and greenery, the crew added the more "overgrown" floral arrangements. Adding mismatched vintage China and delicately tapered candles in blush, sparklers of roses (in matching pink), and funky stationery, it's like being transported to a garden hidden from view.
In addition, we are enthralled by the gorgeous wedding cake that is painted with watercolor. This artistic confection echoes the delicate details of the. We can't forget the watercolor cake without mentioning an image of the live painter painting the stunning landscape.
From Danni Laraia
A few hours away from the bustle and hustle in New York City lies the stunning countryside, rolling hills, and vibrant gardens of Hudson Valley: a serene paradise ideal for brides and grooms searching for a romantic spot for their wedding day. "I do!"
We thought of a way to display the art available outside the city. When we chose our location, we decided that M&D Farms was the ideal location to begin creating an intimate, rural wedding within the vibrant gardens brimming with delicate lavender and blush peonies. With the assistance of Kate Taylor Events & Weddings as our day-of coordinator and wedding planner, we created our dream wedding!
We carefully selected our vendor group to showcase the region's most elegant and exclusive work. Carrie Bielinski of Blooms for Rooms used the blooms of her garden, such as a large assortment of peonies and soft white roses, for a centerpiece brimming with florals and a perfect reflection of the surrounding gardens. The floral arrangement was a custom-designed one of intertwined vines suspended from a trellis that hung above the dining table; the ambiance seemed more intimate, like a romantic dinner by the sea of Italy instead of an easy train ride from central Manhattan.
The Fashion
Regarding style choices, Jessica Haley of Jessica Haley Bridal Shop offered a classy two-piece Antonio Riva silk Mikado dress with an additional detachable train that reflected the sun in the golden hour, creating an incredible sparkle. The two matched perfectly with our groom dressed in an elegant suit, a Tuxego suit. Julie Occhino Luxurious Beauty ensured that they were looking flawless!
The Invitations & Stationery
We engaged Stephanie from Stephanie Tara Stationery to design delicate, soft goods with a hint of feminine sass – the hand-crafted invitation suite showed the farm's location, nestled in an array of flowers, and was a stunning representation of the vision. Stephanie designed the escort display. She created a spectacular collection with a hanging ribbon that allowed movement in the summer's first breeze!
The Food & Dessert
Robin from Deliciously Different Foods created mouthwatering food creations in true farm-to-table style featuring local fresh vegetables, fruits, cheeses, and meats. Kate of Galway Vineyards in the Adirondack region of New York State provided miniature bottles of Saratoga Rose, the perfect local-style favors to represent the region.
Sandy of Gingersnap Cake Shop made sweet and sugary art to finish the meal. She sculpted and painted by hand the edible birds and flowers that adorned the garden-themed cake as well. As for a hint of European design; she made a French macaroon tower and individual cakes to serve on Italian pottery plates.