Colorful Anglo-Hindu Fusion Wedding With A Parade Of Indian Drummers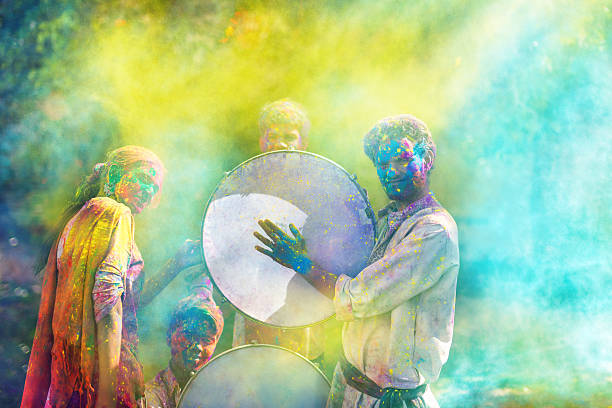 The joyous parades of color are what we require as winter settles in. Sarah and Somit put on the most colorful Anglo-Hindu London wedding, and we're not even sure how to begin with all the wonderful details. For instance, if anyone would want to see an entire Parade with Indian musicians from location to venue? We do!
The majority of their day was a reflection of personal moments. It could be the dedication to incorporating ceremonies and customs of both traditions or marking the place of their first meeting and feeling like we are friends with Sarah as well as Somit after having read their thoughts and seeing their photos from their day. They were so vividly taken through Parrot & Pineapple.
With a traditional English church location and vibrant Indian Marigold decor, this wedding is truly eclectic, colorful, and fun.
Our Love Story
We met through our friends. Somit's high school friend Peter was married to Sarah's friend Sian from the sixth grade of college. We initially got together at their wedding. However, it wasn't until I had an evening meal along with Pete and Sian in February of the following year that we reconnected. The moment I arrived, Somit got out of the dining room and assisted me in getting out of the cab at the intersection of Columbia Road and Ravenscroft Road. The night after that, everything was the story!
The following time, Somit was transferred to Hong Kong to work, and his relationship with me was in doubt. We fought it out until February 2012, when I landed a job and was able to relocate to Hong Kong to join Somit. We resided in Hong Kong for a year and a half. Then, we went to Japan, China, Malaysia, Borneo, and Thailand until Somit was accepted to pursue the MBA from Berkeley, located in California. I was offered employment in London, which allowed me to be able to travel with work in California and then spend six months in California in the year 2015. We all returned to London in the year 2015.
The proposal was made in July of 2016, following an excursion on the Canal Somit proposed in the midst of Primrose Hill, And I agreed! The surprise didn't end, and at Regents Park, Somit had organized all of our family and friends to join us for an outdoor picnic in the summer to celebrate our wedding day. This was among the best moments we've had (apart from the wedding day that followed! ).
The Venues
We had dreamed of a fusion wedding that combined the classic English church wedding with the traditional English church wedding with a Hindu marriage. We decided at the beginning of our planning to have both ceremonies on the same day instead of prioritizing one over the other. We also decided early when we were planning our wedding that we wanted to wedding in East London – which is the place we currently reside and where we met in the middle of Columbia Road. Naturally, with two wedding ceremonies and a huge Indian wedding, we were aware that we'd require several locations.
Our church of choice used to be St.Peters Church Bethnal Green, which is situated on one side of Columbia Road, and the Shoreditch Tabernacle Baptist Church ( the Tab Centre) at the other end. After we had been to the two venues, we were able to envision having a procession through both platforms with Indian Dhol drummers that would result in a fun change between the two cultures. It just so happens that we had a meeting at Brawn Restaurant on the intersection of Columbia Road and Ravenscroft Road, and the route of the procession would be through the place where we first had an appointment.
The Ceremony
The church service was fairly traditional. The Vicar Heather Atkinson was wonderful and provided a fun and relaxed ceremony. I wore diamond and gold jewelry given by Somit's aunty, bought from P.C. Chandra in Kolkata.
The Hindu ceremony we had was a quick 50-minute cut-down version of a Hindu Bengali wedding ceremony. A Bengali Hindu wedding is an elaborate ceremony that is rooted in Vedic traditions. Every step is a symbol of a different aspect of life. Sarah as well as Somit will live as a newlywed couple.
Sarah dressed in the traditional silk sari from Banarasi that she bought at Kolkata and was embellished with gold and jewelry given to the bride by her mum and Aunties. For a Hindu Bengali wedding, it is customary for the mother-in-law to present her daughter-in-law an elliptical ring of gold; mine was purchased from P.C. Chandra Jewellers in Kolkata (this jeweler is a bit of a tradition for India).
The most memorable moment of my life was when my Dad and I chanted in Sanskrit with no training or preparation in any way. Everyone was shocked.
Fun Details
At the corner where we met, we decided to purchase an e-board so that we could mark the spot on which we first met and where the whole thing began. Somit was the only one who was looking for balloons, so we purchased massive helium orange and blush balloons from The Giant Balloon Company. We also used these at the Tab Centre for our Hindu ceremony, which filled the room until the ceilings were high.
It was a mini-heatwave during the week prior to our wedding day. Therefore, we were aware that the drive from the church to Columbia Road might be hot. We purchased Kulfi Ice Creams from Taj Stores on Brick Lane, and our ushers distributed them to our guests on the way.
Following the Hindu wedding ceremony, we had to take our guests from the temple to Hackney Town Hall for the reception. We chose to use the London Red bus provided by Traditional Travel, an institution nowadays, to be used for London weddings. The guests were raving about the bus, and it was perfect for great photographs.