Classic Seattle Waterfront Wedding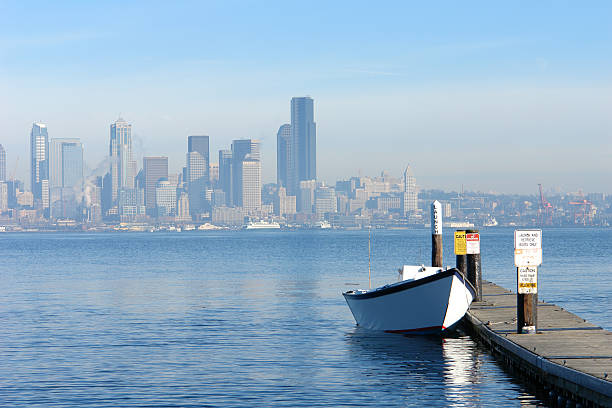 I am a bit choked whenever I see a beautiful Seattle wedding. I grew up with ten years of overcast and rain (or UK brides might relate!) When summer is in full swing, the Pacific Northwest is breathtaking. Everybody is on the water, and the wedding season gets filled with excitement for a couple of months. The wedding today, the Seattle Beach wedding, was familiar to me from when I was a child, with memories of blissful summertime sunrays.
The wedding was planned from far away (Alabama! ); Susannah and Chas picked the classic beach location to exchange vows and celebrate afterward. The venue is a combination of a dock, marina, and boathouse-inspired style. The wedding was somewhat bohemian (that flowing gown by Truvelle!) and was a lot classy.
In terms of gowns, Susannah shopped at one of my most favored Seattle bridal salons, where I purchased my dress, The Dress Theory. The Dress Theory. Thank you for the bridal bouquet! Chas was stylish in a black tie. Their stunning wedding party of 24 people was dressed in "Seattle grey" – so appropriate.
Our Love Story
We met in our college years at Furman University after bonding over our love of amusement, friendship, and dogs.
Chas proposed Christmas in the year 2016. The proposal didn't be exactly as Chas thought it would (i.e., He walked into dog poop and did not notice until he was to one knee). However, it was the perfect and fun method to start our long-term relationship together. We are still in love with our family, friends, and our dogs, especially our son, who is a cute 2-year-old golden retriever.
The Wedding Venue & Vibes
The wedding we had was held on the grounds of the Seattle Tennis Club on the most beautiful, bright, and sunny Seattle day. It's hard not to be beaten by the Seattle temperatures in August. An amazing view of Mt. Rainier to the left. We planned the majority of our wedding from afar as we currently reside in Birmingham, Alabama – Susannah was born in the suburbs of Seattle, and Chas lived in Thomaston, Georgia.
We are both a fan of neutral shades. Our flowers were mostly white, with plenty of greenery. The bridesmaids and groomsmen were navy, and the bridesmen gray. There were 24 guests at our wedding party, which was a lot of fun wedding events.
Favorite Moments
Chas's brother (Cam Short) was our wedding officiant. Cam Short performed the ceremony. He did a fantastic job. It was pleasant to have someone familiar with us and our family as our wedding officiant.
He was also a razzle-dazzle when he danced during the reception. He even hurt his ankle while dancing. However, it did not stop him from dancing as he hiked and explored in the Pacific Northwest the week after the wedding. He was married to his wife.
At the time of the ceremony, Susannah's grandfather read out the passage he had compiled from literature and scripture. It was incredibly important to have our family create a ceremony that was unique and special.