Afternoon Tea Wedding Inspiration Fit For Kensington Gardens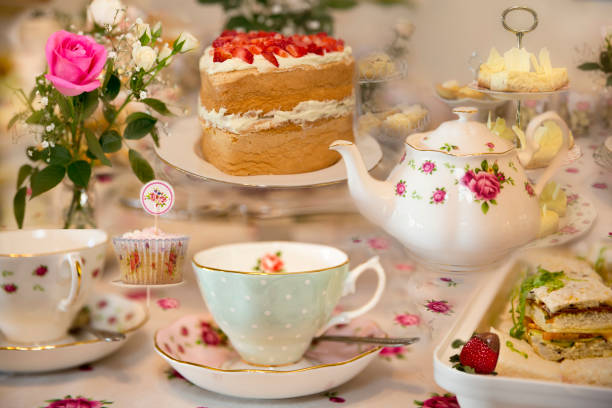 An English garden wedding with buttery yellow flowers, a gorgeous wedding sunhat, a slouchy wedding gown, and a traditional afternoon tea? We're having tea!
While I'm enjoying the beautiful blooming gardens in Portland, our roots here at Bridal Musings lie in England. We're thrilled when we get a taste of the traditional English wedding concepts! Designer planner Bowties & Bouquets and photographer Lorin Kelly have taken us to a tea time complete with Edwardian and Victorian-era elements. We can gather straw sun hats, mittens, and lacey gloves…
With weddings with garden parties increasing, This Editorial is perfect for inspiration. It incorporates classic and timeless wedding features suitable to Kensington Gardens and new trends that swell our fashion-conscious hearts.
The Cottagecore bridal hat (the exact model we included on our top bridal hats!) is the perfect choice for an afternoon tea-party wedding with a sun-kissed. The gorgeous puff-sleeve Leanne Marshall gown is elegant, romantic, stylish, and striking in every way.
From Bowties & Bouquets
This Editorial was designed to be enjoyed by enjoying an exquisite after-dinner tea in the garden, with beautiful, gorgeous, and romantic features.
The Edwardian Era is known for its lavish and beautiful gardens; it's lively and bright, filled with joy, laughter, and love. The design was inspired by a trip away, a magical journey to Kensington Gardens, with a nod to Victorian vintage-inspired fashion.
It's a beautiful vintage art full of connection and fluidity and being influenced by emotional love stories! Imagine walking through the garden with your loved one and best friend, surrounded by lush greenery, feeling their hands in yours, and ending your day with an unhurried tea time.
We enjoy the antique and romantic elements, such as the Victorian gloves and straw hat sewn on an old Victorian straw maker off-the-shoulder dress and the intimate afternoon tea with two guests. The gorgeous tablescape features vintage mix-and-match flower china!
We hope you're impressed by this garden romance of a wedding and become enthralled by everything we enjoy about tea time and romantic, ethereal love!