Romantic Rainy Day Wedding with Beautiful Decor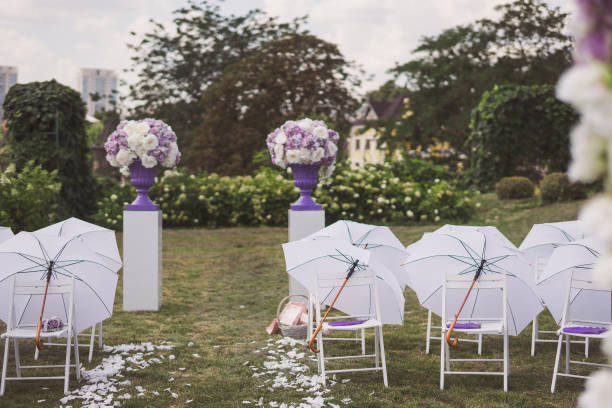 If you're planning a wedding, you're inclined to concentrate on the details, from wine tastings and even the paper items to the wedding flowers.
However, there's one thing that even the best wedding planner or the most organized couple cannot predict – the weather.
Kristen Phillip and Kristen Phillip were married in the most stunning wedding ceremony at the Kirtland Country Club by Lake Erie in Ohio. Despite having to use a backup plan to back up their backup plan due to rain (pro-planners always have plans for any eventuality! ), Their wedding day was just as classy, romantic, and unforgettable as they had hoped for.
With stunning photos from Addison Jones Photography and beautiful design from the A Charming Fête (who perfectly altered the scene by adjusting the weather!) You'll be able to get a lot of ideas from their daily activities.
From the gorgeous florals to the sophisticated style to the stunning papers, This is a delightful event…
From the Bride, Kristen
When I visited my sibling at home in Houston in 2011, I learned about Phil from stories Kerry shared with me. Let me say that there's no better way to "screen the character of someone than having your family be around them for a long time before you begin dating them.
The connection was instantaneous, and I've never felt more relaxed and comfortable with anyone in my life. He was dressed to the nines, and then Kerry told me, "he was nervous and bought that expensive jacket because you were coming." He was awe-inspiring, and I was instantly in love.
When I left to return to Cleveland, I was anxious. Relationships that span a long distance are difficult for couples of all kinds. However, we were not in an actual relationship…we only knew one another for a few days!
Quite astonishingly, by way of phone calls and messages in the space of four months, our friendship was growing, and being able to say that we were able to meet one the other, without actually seeing each other, strengthened our bond.
Three months later, our official second and third dates were dinners at Christmas with each other's families. The most interesting thing is that it didn't make me feel uncomfortable. It was just perfect.
From the Groom, Phillip
When I look back at the way we met, I am amazed at how fortunate I am. We both grew up in the Cleveland area for the majority of our lives. However, it required me to move to Houston to meet for the first time. Meet. In the year I moved to Houston to study for a master's Degree, I came across one of my most cherished friends, the sister of Krissy, Kerry.
Little did I know that she would present me with the most precious gift of all time, and I will forever be happy.
Krissy was scheduled to visit us to allow us to attend the Adele concert in the year 2011. The show was unfortunately postponed, but she decided to participate in the visit nonetheless.
I recall going to the airport along with Kerry to take Krissy up. Kerry was talking about how gorgeous she was and how we would get along; however, I was a bit nervous. I was definitely dressed to impress for the trip to the airport, and I was, for some reason, very anxious. The nerves grew worse after she got in the car, and I was amazed at the stunning beauty she had.
I didn't have anything to worry about, though, since we clicked instantly. I've never been so immediately at ease with a person; she even thought all of my jokes were hilarious!
In the time they were in Houston, I spent every moment possible with her. I was sad to see her go and promised myself I would do all I could to make sure that she was seen again. We spent the following months constantly in contact, and I've never felt closer to someone in my life.
After I returned to my home, my very first priority was to meet her once more! Since then, we've been spending nearly every single day being together and gaining more and more in love.
From the Planners, A Charming Fete
We collaborated with Kristen, the bride Kristen, at the start to design and plan an elegant, intimate wedding.
We pulled a little French influence from crown moldings as well as vintage crystal chandeliers in the dining area. We created a soothing palette of light grays, blues, and pinks and exquisite script calligraphy, as well as a plethora of beautiful flowers.
The menu and invite suite were dyed in various shades of pale blue-gray watercolor. We chose a mixture of wooden tables reclaimed from the past using ecru-colored hemstitch napkins in order to create a classic style.
The lush flowers in tiny containers adorned the tables. The fireplace was decorated with climbing vines and leaves. A naked cake with a light spread of buttercream accented by huge dahlias from Cafe au Lait and Vines was equally gorgeous and delicious.
Pear trees of immense size adorned the corners of the dining area. The guests were directed to a stone-enclosed space with chandeliers hung over the dripping plants and vines.