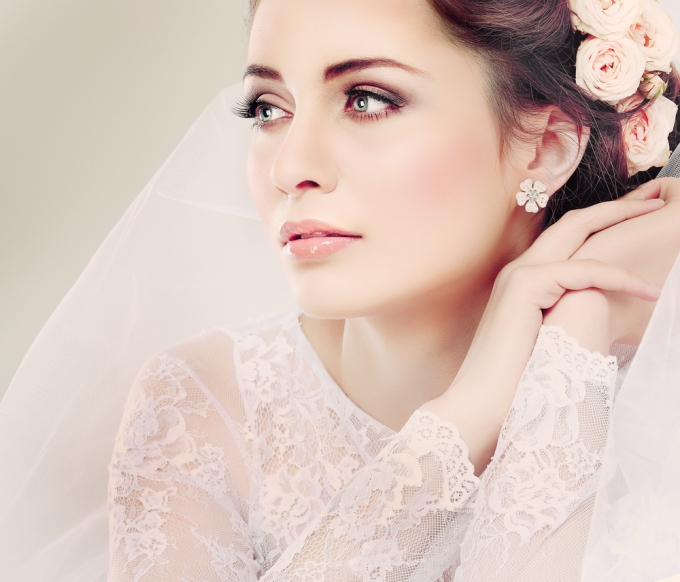 Wedding day make up is sometimes tricky to get right. Most brides want something more than their everyday glam but they don't want to look as if they are wearing a costume. Being photographed in your wedding day make up is one of the most important considerations that you will need to make when choosing your face paint for the big day. We got some great advice for you in this article so read on and find out how to perfect your bridal make-up look, whatever your style.
Choose an easy palette
You will need to touch up your make up as the day goes on, so make sure that you choose the palette that suits your needs. Choosing a gorgeous eye palette from Chanel or Revlon will make touching up your eyelids easy. It's now possible to find complete face pallets that are actually trendy and completely useful, and Bobbi Brown is a brand that is particularly good at this. We also recommend the NARS At 1st Sight palette, which combines perfectly soft colours for eyes and cheeks.
Pick up a lipstick pencil
In pencil form, a lipstick can prove perfectly portable and very easy to apply because you don't need to bring a separate liner with you in your make-up bag. Try out one of the new lipstick pencils from Maybelline or Sleek Make Up. Barry M also do some good shades. Lipstick pencils are available in all kinds of formulas, but gloss formulas are our favourite, because the shine makes lips appear to be fuller.
Test out your foundation and powder ahead of time.
If your wedding photographer offers a trial, or you can get someone else to take photos with a flash, then try out your base and powder look to make sure that you don't end up with a ghostly reflective flash in your make up in the final wedding pictures. Make up often photographs very differently to the way it looks in real life. You don't want any nasty surprises so this is well worth the effort ahead of time.
Lock down your colours
Traditional colours for bridal make up are very neutral, especially for Christian weddings. Think icy pinks and peaches and barely there bronzes. If you want something a bit more modern then maybe try very subtle touches of bronze and gold, anchored with a soft brown eyeliner. If you are having an Asian wedding then your colour palette for eye make up is probably much wider. Try out a custom palette by Troy Suratt to make your eyeshadow selection completely personalised to your bridal outfit. One of the best sources of inspiration for bridal make up is the red carpet of the big Hollywood awards shows. Pay attention to the actresses who wear neutral gowns and take inspiration from delicate beauty looks, or the actresses who wear bold colours and see how they play up/play down the drama of rich colour with perfectly matching make up. Choosing wedding make up need not be a pain–indulge in the world of colour and make it a joy!