Make Your Own Updo Wedding Hairstyles: An Easy Tutorial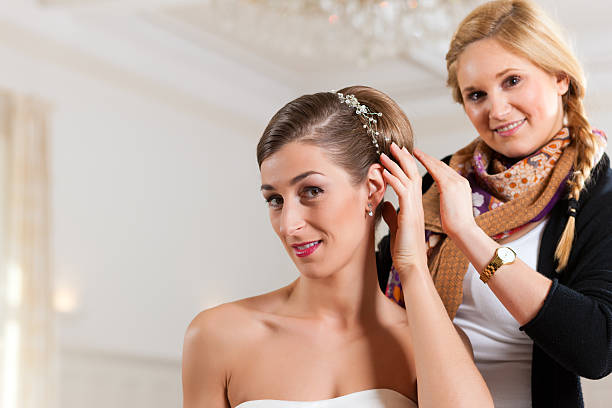 It's good to keep a few beautiful styles on hand, whether you want to DIY your hair for your wedding day or not. As you might know, a low bun with a tousled look is one of our favorites.
Emily Kent, a multi-award winning hairstylist from The Wedding Hair Company and the creator of Feather & coal (one of our Top Hair Accessory Designers this year), created a special tutorial for us that any bride can try.
This updo, based on her beautiful 106 hair piece, is timeless and modern. It's also easy to make (promise!).
You can find the detailed instructions at the bottom of this page. Also, you'll learn how to win one of Feather & Coal's beautiful bridal hair pieces!
Wedding Day Upstyle: Easy and Effortless
In order to make a tutorial that is truly achievable for the readers, I kept steps to a minimum and used basic styling techniques.
This style was created with the idea of a worn-in look that relies on imperfections, roughness, and a "lived in" feel. This style can be achieved in 30 minutes, depending on your hair thickness.
I used 106, which is flexible, easy to wear, and can be worn in many different ways.
To begin, you will require:
Hand Bands
Hair grips, pins, and clips
Pin tail comb
Dry Shampoo
Hairspray
Hair wand
To ensure that your hair is completely dry and clean, wash and then blow-dry it. Decide where you want to part your hair. Both a side and center-parting work well for this look. Leave any loose strands around the face for a more natural finish.
Step One
Spray dry shampoo on the roots of the hair to add grip and texture. This will make the hair much easier to handle.
The Casual Matt Texture Dry shampoo from Toni & Guy is my favorite dry shampoo.
Step Two
Waving the wand will help you to wave your hair roughly. Cloud 9 is my favorite; it's perfect for this task – quick and simple.
When waving the hair, don't pay too much attention. The purpose is only to add a bend that will make it easier to style.
To help you, divide the hair into small sections. Imagine taking inch-sized squares and wagging them down the length.
Mist hairspray on the hair while it is still in waves. My absolute favorite is the one from Healthy, Sexy Hair.
After the entire head is waved, use your fingers to run from the root to the tip of the hair to create a loose look.
Step Three
Separate the hair into 3threesections and tie them into ponytails on the back of your head.
After the hair is tied, you can pull some hair over the bands in order to add volume and softness. Spray hairspray on the crown.