Flower-Filled English Wedding with Laduree Stationery and Disney-Inspired Centerpieces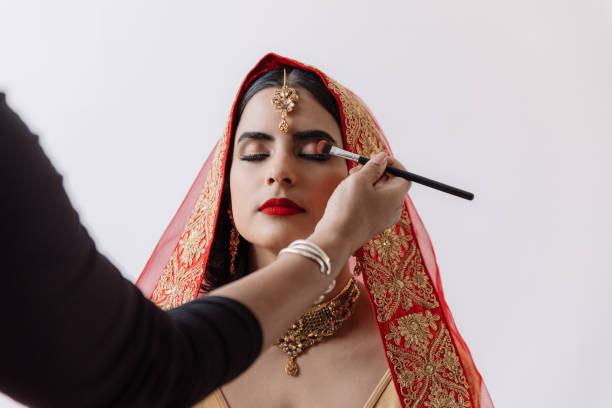 We have one last real wedding for the year to share with all of you!
Kim & Kanye are jealous. A beautiful bride, a dashing groom, a stunning backdrop, and a wedding with flowers so luxurious, they would make Kim & Kanye jealous.
Brian Wright of French Grey Photography captured the day Chloe and Greg got married at Chiswick House and Gardens.
Chloe's mother, Paula Gibson Flowers, did a fantastic job in creating this beautiful wedding.
Some of our favorite touches include Laduree-style stationery and centerpieces from Beauty & The Beast, as well as a gorgeous ruffled cake.
The style of this wedding is what really stands out. Greg is a dapper Hugo Boss suit, and Chloe looks stunning in her Monique Lhuillier dress.
Our Love Story
We met seven years ago through friends.
Greg proposed while on vacation in Las Vegas, at Red Rock Canyon. It was like something out of a movie.
What three words would you use to describe your wedding? Fun, Magical, Loving.
The Attire
Black tie was our choice as we loved the old Hollywood style of the tuxedos. It's not every day that you can dress up in evening wear!
Our groomsmen had tuxedos by Moss Bros, and our bridesmaids wore lilac dresses by David's Bridal.
The Inspiration
We wanted to make sure that our guests had a great time celebrating our special day.
Although we didn't follow a theme, I would describe it as elegant, whimsical, and a bit quirky in a hidden setting.
We wanted to be ourselves all day long!
Our colors were lilacs, blushes, and pastel color elements. We wore black ties or evening/cocktail dresses.
The Music
The Estrillo String Quartet played a mix of classical and contemporary songs, and Matt Maurice, our DJ, was able to capture our exact mood for the evening's music.
As we have a young family, we chose current songs. We wanted to throw a huge party with everyone dancing all night long!
The first dance we did was Sam Smith's Latch in its acoustic form.
The Photography & Videography
Brian's photographs are soft, natural, and creative. They are personal, delicate, and creative.
Reel Love Films captured our wedding day magically and touchingly.
The Venue
As we had guests coming from New York, Singapore, and other parts of the UK, our venue needed to be located centrally.
Chiswick House and Gardens ticked all the boxes as it was within London but with an enchanted secret garden feel.
As soon as you enter the venue, you will feel transported to an earlier decadent era!
You never know what you will find in the gardens, including little waterfalls, swans, and rose gardens!
The Chiswick House is a fantastic venue for service. We also had the opportunity to create a fun, creative atmosphere in the marquee.
The entire day was held in one place. The staff was also amazing at answering any questions, and they were fun, calm, and efficient!
The Refreshments
We served wine from Iniesta Wines all day.
The Ampersand provided a variety of canapes and our formal meal, which was beef Wellington, with a delicious pineapple cheesecake as dessert.
Cakes by Robin made Cake Pops and Cake in the shape of our dog. The bride loves sweets! )
The Flowers
My mother is a fantastic florist, and I am very fortunate to have her! I grew up in a flower-filled environment, so choosing the flowers for the wedding was easy.
The bouquet of the bride was made up of Shirley Temple, Gardenia Peonies, and Peonies, and for the boutonnière, it was White Akito Roses.
The centerpieces were rose domes inspired by Beauty & The Beast, with Sweet Avalanche Roses. Tall Rose centerpieces contained decor stocks of Lilac Roses and Ocean Song Roses, as well as Sweet Avalanche Roses.