Beautiful Bridal Bash in Color with Loads of Chic Tropical Treat Ideas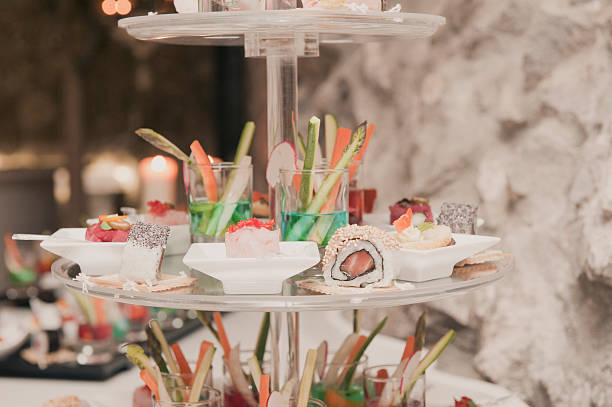 The shoot today is full of vibrant, sweet, tropical, and pineapple-loving inspiration! The shoot was put together by Rebecca K at London's first wedding venue, Hive. The shoot offers us an abundance of winning, pin, and giddy jumping up and down that it's difficult not to suggest that you skip ahead to see all of Maxeen Kim's stunning photographs.
Here are some highlights that we urge you not to miss. We also have plenty of ideas for bridal showers and cute gifts for bridesmaids, exotic sweet treats, and tropical cocktails. Still, we also have fashionable white and green floral crowns – each of these ideas can be utilized at your bachelorette party or wedding!
Consider the high-bridal bun as an example; wouldn't it look amazing with a classic, urban bridesmaid look? The bundt cakes could make the perfect wedding dessert, and Monstera Leaf Cookies could be a favor for guests! We're particularly excited over the pineapple-themed accents all over, the white and gold pineapple cake, the mini cocktail shakers, and, of course, little pink baby pineapples, along with the floral arrangements.
From the Planner
The bridal shower idea together in a fantastic wedding community in London, The HIVE. The idea for our bridal shower came from an upcoming bride who was born in the sea and resided in the city. She wanted to celebrate with her closest family and friends. She put together a gorgeous party with accents of tropical elements elegantly.
We chose to go with the fresh colors of green and white, with blue and gold. The blue was an ode to the sea, and the gold added just a touch of shine that was fun and appropriate for the event. Flowers were a resemblance to the theme. Instead of being all tropical, we added a few accents of low using the miniature pineapples and the leaves. In lieu of making all the flowers look excessively low, We added plenty of whites and greens to give a feminine style to the bride-to-be! Be!
The Details
The bride's maids were presented with fantastic party presents that included temporary tattoos, local London Gins for cocktails, champagne-flavored gold lollipops, London-created pink nail polish, and lots of confetti to celebrate the event.
The ladies gathered together for an intimate night of dancing, making cocktails, and eating tasty sweets, including the pineapple cake, minibutcakess, as well as palm cookies, and "spiked" sweets that included rose dummies and process!
The likely Mrs. is from a sunny, packed area where she and her soon-to-be Mr. were introduced. They currently reside in London and enjoy a little bit of yoga, the outdoors, and living a healthy life. But this bride-to-be loves a splash of bubbly and style with glitter and gold. Its "Sassy Spritzer" station was an alternative to regular drinks. These drinks were all wine-based and lighter, which is perfect for summer parties!