You've Never Seen Hawaiian Wedding Inspiration Like This…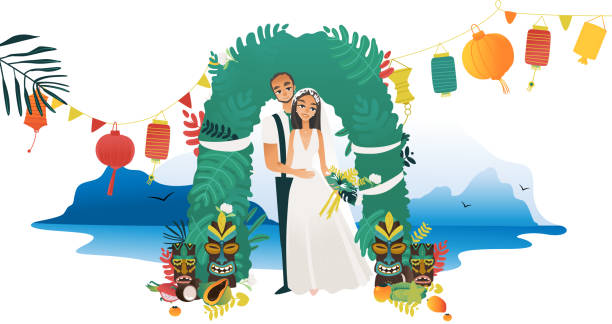 The moody tones, the vibrant wedding dress, and the unique green details This Hawaiian wedding style is unique to any other wedding we've ever seen!
Weddings have been featured before in the Oahu's Loulu Palm Estate (who would blame us?) And while every wedding day has its unique style, we say that this wedding shoot that is dark and romantic is genuinely remarkable.
We were instantly captivated by the painted Leanne Marshall dress, the naked cake covered in chocolate, and the dark purple palm leaves that adorned the tables.
It's not just the unusual colors that make this scene genuinely distinctive. The talented team of designers devised creative ways to create this (and anyone else influenced by!) wedding inspiration green. From naming cards that can be made from plants to choosing a wedding venue dedicated to sustainability, there are many eco-friendly ideas while looking through this article!
From Jordan Jankun Photography
Loulu Palm Estate is a stunning oceanfront venue on the North Shore of Oahu, one of the most sought-after Hawaiian locations for destination weddings and local brides.
Loulu (as it is affectionately referred to by those who have seen its splendor) has made the conscious decision to increase environmental awareness and uses its voice to promote the importance of sustainable and environmentally friendly alternatives to weddings. Loulu has also banned the use of plastic on its property and prefers to use sustainable, compostable alternatives or reusable items such as ceramic, glass, wood, and silver for drinks and food. We were amazed by the company's dedication to the direction of sustainability and these islands' future. We decided to celebrate and honor green wedding alternatives with this edgy and sustainable North Shore wedding design.
Our florals were designed using a mix of dried and reused Eucalyptus, King Proteas anthuriums, Protea neriifolia, and responsibly foraged fillers, like pampas grass. Colby at Wanderer Weddings created smudge sticks to give as a gift. The table was decorated with dried flowers, cru, shed velvet black plates, and personalized name cards made of plants.