Whimsical & Elegant Secret Garden Wedding Inspiration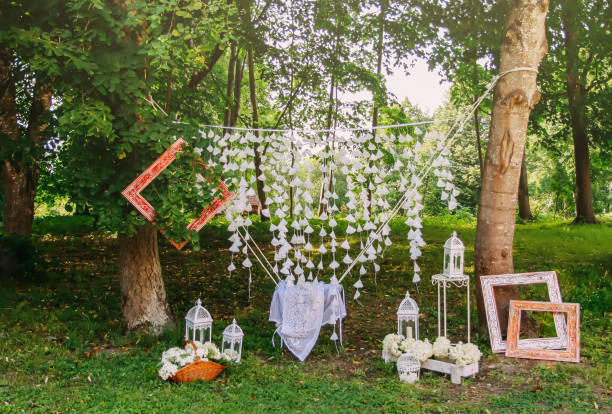 The spring season isn't coming soon enough. With smaller weddings being the fashion of this time of year and the weather getting warmer, there's never an ideal time to plan your wedding intimately in a gorgeous hidden garden.
For British brides and grooms, Newburgh Priory could be a good choice. It was designed by wedding stylist Felisiti Greis and her team; the elegant and whimsical Spring wedding concept makes us envision afternoon teas in a scented English garden.
While those on the other side of the water will have to wait and see the creative team behind this stunning shoot pitching a British couple "a destination wedding at home." We are sure that anyone getting married at this gorgeous estate will be transported to a different place and realm of luxury and elegance, regardless of how close they may be to their home.
In addition to the breathtaking landscape, prolific flowers, and stunning florals, we can't let you go on scrolling without mentioning the exquisite couture style displayed in this inspirational. Felisiti Greis is a designer of stunning bridal wear that evokes fun with elaborate embellishments, gorgeous ball gowns, subtle sparkles, and intentional hues.
From Felisiti Greis
For my editorial collection, I also planned the shoot with a stylized look to motivate couples while addressing our current circumstances in the face of the pandemic. I sourced an array of creatives who I believed could complement the beauty and the concept and bring the vision to reality. This shoot was a styled one. We wanted to highlight the diversity of British talent and the beauty that comes forth when we collaborate in harmony.
This collection is referred to as "ADIEPENA."
Adiepena is a word of Akan origin and refers to:
"Something so rare and valuable, that is difficult to find anywhere else."
Women's innate strength inspired the bridal collection in everyday life. I desire to keep the highest quality of craftsmanship and my dream from childhood of helping women with my designs.
Felicity, the creative director of Felisiti Greis, created the idea for the shoot. The concept behind this shoot was weddings with a destination. We were looking to create a cozy environment that brought the feeling of a wedding at a location to our backyard. Couples can get encouraged to consider the feel of a "destination wedding at home."
This shoot was a styled one. We wanted to highlight the diversity of British abilities and beauty born when we cooperate in harmony while honoring some of the best historical and stunning venues Britain offers. With the ability to think creatively and a desire to inspire wedding couples planning a destination wedding with an eye on the future, Newburgh Priory was the ideal venue for this photo shoot. Newburgh Priory is a stunning venue with beautiful architecture, interiors, and gorgeous grounds. It offers similar amenities as a wedding destination location offers, and it has one of the least flashy but stunning gardens.
The ceremony took place inside the gallery of Newburgh Priory. The reception was held in the breathtaking walled garden in Newburgh Priory.