Texas Garden Wedding With A Blush Pink Wedding Dress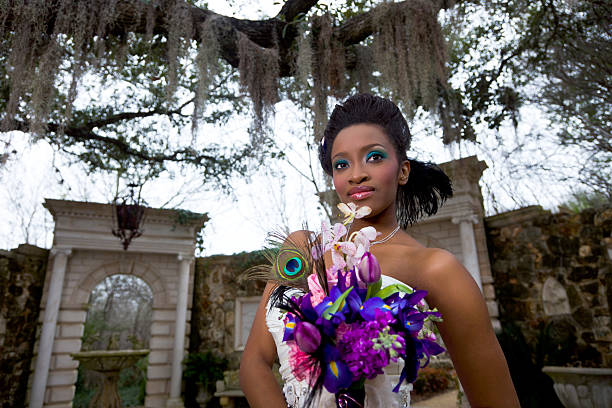 The blush-pink wedding dress will live forever!
Seriously ladies, If there was ever an era we'd like to live forever, brides who dare to stand out in their wedding dress colors. With the abundance of vibrant options each season on the bridal runways (a couple of our top wedding dresses from 2020 were floppy pink gowns! ), It's never an ideal time to be a bride with a love of color.
Bride Melanie took on the trend of a pink wedding dress to the Texas garden wedding, which could not be more perfect. With 3D flowers flowing down the dress, and a soft, playful, elegant hue, she looked stunning amid the blooms of flowers and flora of the local area.
Photo taken by Deven Ashley. These light and airy images will leave you pinning only pink pictures to your Pinterest wedding boards.
Our Love Story
We had a meeting on December 25th, 20,12. (Christmas Day) at the cinema!
The other day, I (Melanie) was on my own in the perfect middle position waiting for the film (Django) to begin, and Auggie (home to spend Christmas break) came in with a bunch of his buddies. There was just one empty seat close to me. When Auggie saw my face, he stopped and sat down, leaving the rest of his group to their own devices. Auggie eventually reunited with his buddies, but not before asking me to be a part of them. Though pleased, I declined his invitation (they were in the first row, boo!) However, I was willing to swap numbers.
Auggie was back in Missouri to complete his final year at school. We kept in touch over the next two years through daily conversations despite the distance. According to the legend, our friendship eventually blossomed into love, and the rest is the story of our lives!
The Planning & Decor
Our wedding was a mix of Spanish influences because we enjoyed the culture and the people. It was a reference to an area we honeymooned in! The decor for the ceremony and reception was elegant and romantic. We used antique gold vases with lots of flowers and beautiful touches throughout. We used a variety of soft pinks, creams, lavenders, and delicate greenery. Also, we had golds and grays to give it an old-fashioned feel. I would describe it as a romantic spring wedding in the garden!
The Photography & Videography
I picked Deven as our photographer because I liked her airy and light style. We also clicked – right from the beginning! She was organized, knowledgeable, and pleasant, three qualities I was looking for in all my suppliers.
I picked the videographer due to the work they did and also their personal story. They're a newly married couple who had just started their videography business. I enjoy supporting new vendors!
The Reception
The DJ was on the spot, and He played a mix of Spanish jazz, R&B, hip-hop, and the classics of my hometown from Chicago, where I'm from, and Washington, DC, where Auggie grew up. The song we performed at our grand entrance came from "Now That We've Found Love" by Heavy D. It was a great way to begin the evening! The evening ended with a late-night snack – Churros!
The Favors
We enjoyed Topo Chico, a famous Texas staple, SANDERS brand chocolate candy (my new name! ), and various treats and chips. Additionally, we included a travel guide to Dallas, as most of our guests do not come from Dallas!
The Honeymoon
We went on a country-hopping trip across Portugal, Morocco, and Spain and had an incredible time! Our journey began with a stop in Lisbon, Portugal, and we could not have been more pleased with our chosen location. The food was fantastic. The culture was incredible, and we met many great people. We stayed for five days living in Lisbon before departing for Marrakech! Another amazing trip. Our trip ended by spending the night in Seville, Spain, where we resided in a country villa. I highly recommend our honeymoon!