Stop Telling Brides They'll Regret Things About Their Wedding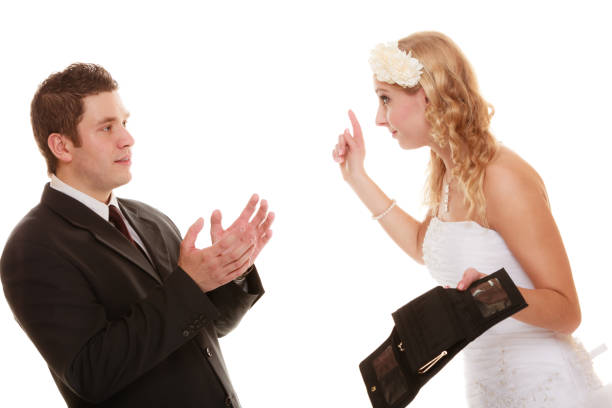 Editorial Claire Eliza here, about to drop a bomb of truth. I ask you to put aside the notion that the brides (AND grooms) will regret things that happened to them at their wedding. It's disrespectful; it's demeaning and manipulative. Guess that their marriage doesn't revolve around you!
This is an honest discussion for all your friends and family members, guests, vendors, and bloggers & wedding magazines who believe it's ok to stoke a negative mood over someone else's happy wedding.
I'm sick of seeing clickbait headlines containing "10 Things All Brides Regret from Their Wedding". I'm sick of hearing friends of friends share the same "you'll regret that" diatribes to newly married couples.
Let's go back in time. Suppose you're among the people who believe you're "protecting" your bride from making a mistake or perhaps a decision that your clients or friends made. In that case, I'm going to share a tale of what the real wedding bride (yours truly) felt about all of the advice she received from strangers…
All The Things I Was Supposedly "Going To Regret" About My Wedding But Didn't
"You'll regret cutting off your hair short prior to your wedding. You should wait till after your wedding ." > In essence, everyone I spoke to about my wedding bob plans. I wanted to showcase my wedding dress's gorgeous backside and keep my hair loose. Also, I got inspired by many of my fellow short-haired brides. When I cut off my long locks, I was ecstatic. (That's me, too, with the adorable hairdo and the blue gown).
"Oh I bet you'll be regretting not hiring professional makeup artists and you're not able to get married without makeup. The camera reveals your shortcomings ." This is an accurate statement made in my direction by a prospective wedding supplier I interviewed. Are my flaws really that ugly for you? For a bride who doesn't apply makeup on her wedding day, I'm pleased that I chose to be natural on my wedding day. I felt comfortable; I was gorgeous. (Also, it's important to note that I'm a professional wedding photographer. Expert wedding photographer. This one upset me.).
"You'll be regretting having such a tiny wedding. You'll never have the chance to bring all your family members together in one place." Maybe we don't need all our family members together? Perhaps we have smaller families? Do we want to spend a lot of time with our guests? Maybe we don't want to be judged by family members we've barely seen and may never meet again. Small weddings are unique. Don't let anyone force you to extend the list of guests.
"Oh, you'll regret asking guests to move chairs from the beach to the dinner reception area, it's tacky."– Another potential vendor is likely not to get the job.
"You'll regret not purchasing flowers. The search for flowers is rarely successful at the final." Ha! Here's the proof that this is incorrect. I adore flowers (as seen in the DIY show); however, we spent money on venues and fine food for our guests, and thus, I scoured the streets in the woods for flowers. We cut a lot of local bougainvilleas, palms, and flowers to blend with the local fruits. It was gorgeous and fun; it made the experience better "us" by DIYing. I've heard many "You'll regret DIYing" bs sung to our groomsmen and bridesmaids. You can block out the background noise! You do you!
"Regrets" and "regrets" went on and on. Do you see that everything isn't right? Do you realize how easily "advice" comes off as harsh and uninformed? Jack and I have no regrets about one thing about our wedding day because we made our own choices that represented our personal preferences, not based upon someone another person's uninformed advice regarding my unique style, appearance, or any other wedding decisions.
Your "Advice" is Manipulative & Negative
If you say, "You'll regret xyz," …" the thing you're saying is, "I don't want you to take XYZ, and I'm trying to make you feel scared of taking action."
I am furious when witnessing my wedding guests being forced, manipulated, and bullied to do things they would instead not do. They have chosen to marry, and this is their day of celebration. I believe that most people don't recognize the signs of manipulation. However, that doesn't mean it is acceptable.
The wedding day is meant to be a joyful celebration, so let's keep things going in the right direction and happy for both the bride and groom. The saying goes, "If you don't have anything nice to say, don't say anything at all."
This Wedding Isn't About You
You could be a wedding expert who has witnessed hundreds of weddings and feels that a decision was not wise (for any reason). Perhaps you've been married and had something go wrong. Maybe you attended the wedding, and there was an incident…
It's not the day you were planning. This isn't a wedding for you. This wedding isn't about you.
If your suggestions or opinions are based on the past and logic, it's an individual's day. If a couple has decided they'd like to take a step or not do something, it's their choice. Yes, we should all learn from our mistakes and experiences, but it's up to us to consider our own decisions and not force others to do the same.
So What?
Life is comprised of experiences and choices. So what happens if things go wrong? What if I discover later that I would prefer another option? It's impossible to go through a single day without making a decision that could be either the best or most disastrous, and we shouldn't allow "potential regrets" to guide our choice-making.
Here's an excellent illustration. Aren't you enthralled by the look back at bridal gowns from the 1970s? The sexy, fun-loving gals in lace-like dresses with bell sleeves, whose dresses we're all trying to replicate in the present? In the decade that passed after these gorgeous brides were able to say "I do," those gowns were "totally out of style."
Someone might have thought at the time, "You'll regret wearing anything trendy because it won't age well." Nowadays, we enjoy revisiting wedding pictures that capture an instant in time. The hair and makeup, the style shag carpet, the mustaches, and that corduroy…