Romantic Beach Elopement In Earth Tones (With A Bridal Jumpsuit)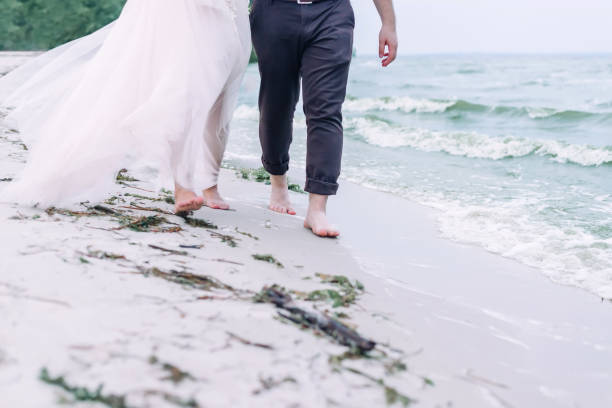 Brides who are natural and beachy will be able to find lots of love in this romantic and beautiful So Cal elopement inspiration. From an emerald-green wedding jumpsuit (or maybe a bridesmaids' outfit?) to a candle-lit cave cocktail, Our hearts are melting for this earthy-toned look.
Seeing an elopement on the beach with gowns typically seen in urban weddings instead of a natural setting is refreshing. It's a perfect fit. The vintage sequin dress is stunning against the sparkling sunset waves.
However, it's the earthy green jumpsuit we're totally in love with. If you're a color-conscious, hot bride or Autumnal bridesmaid, this outfit is chic, contemporary, and appealing.
The natural style was created with a natural, organic look by Chloe Nicole & captured in a glamorous manner with Kalon Weddings. We're utterly enthralled.
From Chloe Nicole Weddings
Capturing these photos in the cave and at the tabletop wedding reception on the rock was no easy feat. Kalon Weddings had her legs and toes soaked with salty water, and model Haley and Sarra could take a bath, too. Elopements can be fun and adventurous, so we wanted to display it with this photo shoot.
The design for this shoot was influenced by modern, fresh black and white with hints of brass. Incorporating a few pieces of vintage clothing and glass cups was crucial in bringing the look together. The talented jeweler who worked on this shoot created stunning brass hairpieces, a boutonniere, and an arrangement wrap!
The Inspiration
The Inspiration for this shoot came from the brass pieces that were custom-designed by Silver and Quill. The inspiration for this shoot was contemporary metallic accents as well as the modern design of green and white with vintage influences to maintain the classic look.
The Tablescape
The tablescape was intended to be an element of nature in this style. Utilizing a rock for the tabletop and a beautiful delicate green fabric flowing between the two ends. The rising tide literally set the scene for a memorable dining on the water.