Multicultural Greek & Chinese Destination Wedding In Athens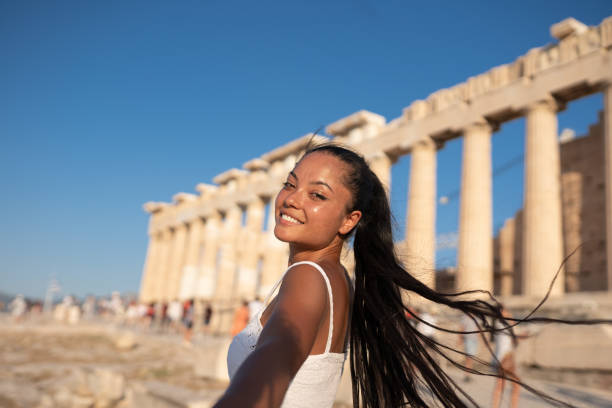 Do you feel that in the process of planning, your families are from different planets? (Raising both hands). It's not easy to organize your wedding to reflect both you and your partner or even your other families. The modern couple effortlessly blended seamlessly their Greek, Malaysian, Chinese, and British traditions by bringing their families to a gorgeous wedding venue on the Greek island of Greece.
The couple united their different cultures by having a Greek Orthodox wedding ceremony followed by a Chinese tea ceremony in the location. What exactly does that mean fashion-wise? Cici had her own custom Berta dress (gasp, I'm in love!) throughout the day before changing to a gorgeous, vibrant red Cheongsam dress to attend the tea ceremony to celebrate her parents.
A wedding at a location looked pretty flawless, too. The Plan V produced an explosion of blossoms of bright oranges, pinks, and reds set against soft blushes and ivory. The centerpieces were replaced with table runners, and the tablescape was total flowers in awe.
Our Love Story
We met through an online site that was set up in London in 2014. It took us about an entire month to schedule our first meeting due to the busy schedules. And to top it off, we both ran late that day. I didn't consider this to be an encouraging sign!
Designer meets financial guru: An unlikely pairing. Our thinking processes were and are quite different. But none of that mattered since it was evident that we had clicked. The spark that had been absent from previous first dates finally showed up.
After the date, I contacted my buddy (who is from Birmingham) and said, Birmingham has an issue, and we need help!' From there on, things went smoothly, and I realized that it was worth waiting for!
The Proposal
The idea was perfect! Antonis was determined to make me a present with a surprise birthday present. I had been through an emotional day, and at the beginning of the evening, he informed me he planned to go for a walk. It's safe to say that I wasn't sure it was a good idea at the time, considering that we were due to go out for a meal with my mom and dad in just two hours.
So, I contacted him to bring me some milk while he was away. Within 30 minutes, I saw him back, and he handed me the bag. While I was taking the bag out of the kitchen, I discovered that, to my delight, there was a present inside the bag.
I thought it was a birthday present (he didn't have one for me in the past), but then I looked up and found him lying on one knee. He said yes in Greek as well as English. The rest was the story!
The Destination
Our wedding was absolutely right for us. We chose to have an event on the Greek island of Athens (where Antonis is originally from) on the 15th and 16th of July weekend in 2017.
It was essential in our wedding to create a celebration ceremony that was inclusive of both our different cultures (I'm a British native Malaysian Chinese & Antonis is Greek). We were able to hold a Greek Orthodox marriage ceremony, followed by the traditional Chinese tea ceremony in the location. We believe it was very well done and showed the convergence of our two cultures.
We had a plan to have an event that was romantic, dreamy, and atmospheric mood. We wanted natural beauty as the backdrop, and therefore, it needed to be surrounded by greenery and be on the beach. This Residence in Island Club Athens was just right because it was filled with all the elements we wanted, and the views were breathtaking. This was among the locations which allowed the party to go on into the early morning hours!
Favorite Moments
A unique moment: attending an unforgettable Chinese tea ceremony in the venue following the ceremony. Greek Orthodox wedding ceremony.
Favorite Moment Moment that I cherish: Walking from the altar as a married couple and being lavished with rice by our loved ones and family, according to the Greek custom.
Another memorable moment was when I made an elaborate surprise Mr & Mrs video for Antonis, which was scheduled to be played during the wedding. However, due to a technical issue the groomsmen had to come in and help by entertaining guests as they worked to get the film repaired. They began dancing to Despacito as they rocked a newborn into sleep using a stroller. It was definitely an unforgettable experience that night!