Laid-Back Barn Wedding (With Horses!)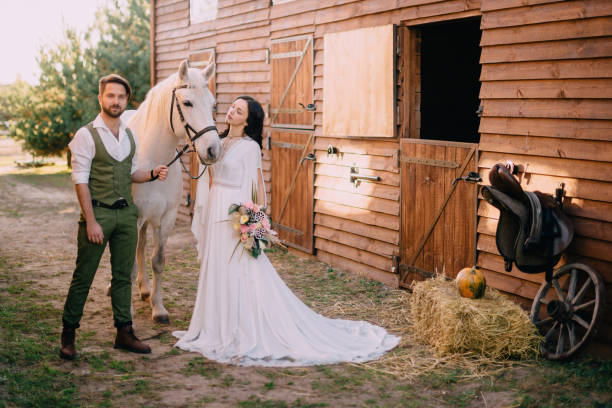 Bridechillas, Beware, the bride of today, is the queen of the "relaxed bride" shtick. They planned their wedding in just three months, taking on the unpredictable weather and making everything by hand; Amy and Jonathan put on the most laid-back, sweet farm wedding with horses included!
In retrospect, Amy may have chosen differently from the "three months to plan" plan; she resorted her time on the internet and crafted an elegant wedding theme that combines boho chic, vintage-style details, and a plethora of eucalyptus bundles – we're betting the leaves smelled amazing when it rained!
Amy discovered an ideal barn for her wedding in the very first week after becoming engaged. And if this wasn't enough, she got her gorgeous Casablanca wedding dress arrived in the first week! She planned the entire wedding with the assistance of wedding industry professionals within the family and guests on the guest list; Amy set up the barn with mix-and-match dishes, beautiful greenery, rustic lighting, warm lighting, and the most delicious naked cake decorated with berries. We're blown away!
Our Love Story
Jonny and I met approximately 13 years ago as I was a great friend of his older brother (whose name is Amy!) I met Jonny at a church event in Sarasota. My family grew up in Ohio in the winter, and during the Christmas season or the New Year, my entire family took a go on vacation in Sarasota, FL, where Jonny's family was.
Our common interest in playing volleyball has kept us in touch for a long time, and we would play together and hang out with friends in groups, but nothing romantic. We won a major outdoor volleyball competition in 2012, and then sparks began going off.
I was sure he was the one. It took him just a more time. We split up a time later and then had our adventures as well as increasing time in life (and spiritually) before we began to date in 2015.
The Proposal
We had an evening date on a Friday night and planned on going to dinner at Cheesecake Factory. He was so casual about all things, and I was thrilled to be out with him that I was unsure of what was to come the next night.
We went to Cheesecake Factory. The wait was about forty minutes. Jonny declared that it was too long and let's go to a different place. We went to two other sites, and the wait was too long, the waiter declared. I was a bit dissatisfied because I was dressed to go to Cheesecake Factory, but I told myself it's the thought that is the most important. But I was unaware that I was actually trying to pass the time.
When I returned to my home, he told me that his mom had prepared an entirely new cheesecake recipe, and I wanted to explore it. "Sure!" Then he said to me that new lights had been set up along the boardwalk that was close to the home of his parents. "Sure!" That sounds romantic (duh!) It was a bit odd to go to the boardwalk first, as we could have seen the path as we drove to the house of his parents; however, I was thinking, "Okay!" (#clueless).
We walked up to the boardwalk, and it was lit with lots of candles in mason jars and a small table with roses and chocolate-covered strawberries, which his buddies (elves!) were busy making. I was able to figure it out when I was looking at the candle.
Jonny handed me a note to read as we walked over to the pavilion near the end, where the tables and the bouquets were. It was a note Jonny had written while we were breaking up and was titled "What is Love?" I cried as I walked down the gazebo rea, ding his note know,wing that he was determined to cherish me in the most Godly manner possible.
We came to the very end. Naturally, I'm not sure everything he said prior to the moment he dropped all knee-high and proposed, and I said "YES!" He then called his friends who were hiding, and we headed for his parents' home, where they there was an engagement celebration that was all set (and yes, there was cheesecake!)
Getting Ready
My bridesmaids, as well as I, arrived at the venue on Sunday at 9 am to have the bride's hair and makeup completed. It was a great, relaxed time getting with friends and enjoying each other's company before things got underway. The weather was forecast to be a possibility of rain forecast, which caused me to be a bit nervous since we were planning to have an outdoor wedding!
After having our hair and makeup done, we walked down the steps, and I was ushered into the most beautiful reception space I've been to. My friends completely impressed me with how they put everything together, and it was far more than I could have ever imagined.
The First Look
Jonny & I had our first glimpse of a hill in the back of the farm. It was so wonderful to see him again and feel his embrace. I began crying tears of joy as I was so happy that it was him. We were able to capture all the wedding photos, but then it started to rain (along with some chaos).
Then we headed back to the barn and wrapped the day with family photos while guests and relatives swiftly moved the decorations, sound system, and a few chairs into a small ceremony space inside the barn. The barn was packed with guests inside, with the majority sitting, but it ended as a blessing in disguise since it helped create an extremely relaxed mood!