Desert Wedding Inspiration with Natural Hair Ideas for Black Brides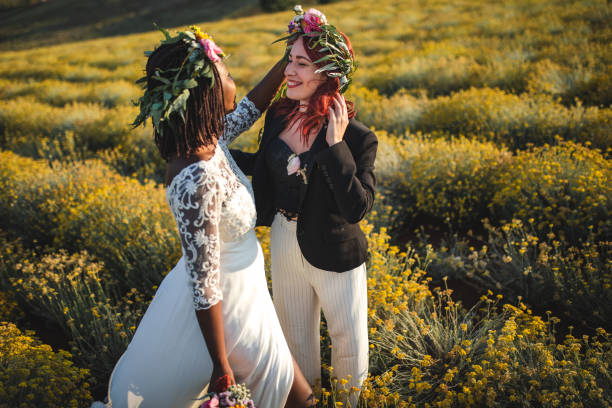 Although I cannot speak for the Black bride's experience, I am familiar with the outdated expectations and standards of "bridal beautification."
As a woman that doesn't wear makeup, I was bombarded by opinions and expectations of the wedding industry. The vendors I spoke to and other members of the "peanut gallery" commented on how I would regret not wearing makeup on my wedding day and that "the camera will show all my flaws." What? Are my flaws unsightly to you?
While Googling to see if there were other brides like me, I could not find many examples of brides going au natural for their weddings. It's so great that I stuck with my guns and didn't touch the makeup I bought in the last hour (thanks to my best friends for telling me not to do it). Now I can "be an inspiration" to other brides that you can be natural on your big day if you feel like it!
I'm thrilled to share these bridal hair ideas with all our Black brides. These talented vendors, models, and stylists demonstrate many beautiful, modern ways to showcase your natural curls. We believe everyone should look exactly how they want to on their wedding day, whether glam or natural.
We see you, LAW Bridal, the bridal separates queen! This editorial by Tor Hawley, Creative, is fresh air.
Tor Hawley, Creative Director
It took me 22 years to accept my curly hair. I stopped straightening it and let it be a wild part of me. My Latina taught me to embrace my curly hair and a new level of freedom.
While at my hair appointment, my curly specialist Martina discussed her desire for a bridal photo shoot with natural hair. My eyes lit up! We talked about how many women with curly hair, kinky coils, and wigs feel they need to wear them on their wedding day. We wanted to start changing that narrative.
This shoot was created for Black women to promote their natural hair. This shoot is for Black women with natural hair to question the wedding norm and for Black brides who embrace their natural selves. It's for phenomenal Black women who have the freedom to be.