Cool Courthouse Wedding Inspiration Featuring A Bridal Jumpsuit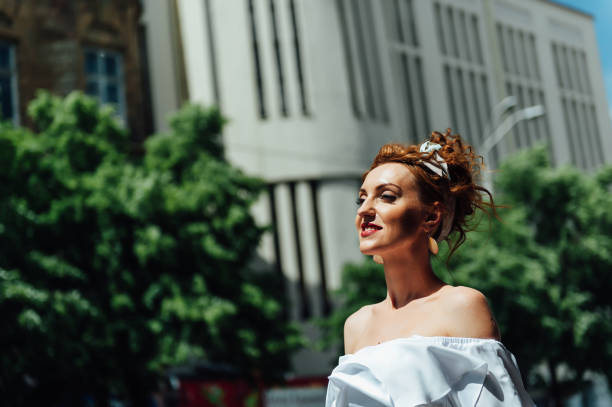 A few couples who are feisty have been challenging the trend of big weddings and going to courthouses for decades for a myriad of good motives. Perhaps you're looking for a more simple, intimate wedding, or you'd like to cut costs for the wedding of your dreams, or maybe you've been imagining your dream courthouse wedding.
If you're going towards a speedy and easy City Hall ceremony, it does not mean that you must be left out of all the fun bridal fashion. Rachel Birkhofer photographed and styled this modern, chic courthouse wedding style with a soft, elegant look normally reserved for traditional weddings. The bride is wearing a trendy and stylish white Trina Turk jumpsuit; her face is softened by a delicate white flower crown, a dramatic veil, natural makeup, and loose hairstyles, creating the most romantic and sophisticated style.
Jack and I will be planning a wedding at a location in Mexico (more on that in the near future). However, we'll legally be required to register for our wedding in New York, and you are sure to find me wearing a stylish suit (with pockets!) on the steps of City Hall.
From Rachel Birkhofer Photography
In the hope of removing the stigma of traditional courthouse weddings, The courthouse elopement's unique plan is to encourage brides who want an easy yet elegant wedding. For the flower crown and bouquet, florist Samantha Crowley at Fleurt Weddings & Events sought to create something elegant, contemporary, and chic.
Our bride-to-be had a gorgeous and fashionable White Trina Turk jumpsuit, which was perfectly paired with her oversized flower crown and a lavish garden-style bouquet made up of local-grown flowers and leaves. Crowns are coveted for inspiration by brides from all over the world every day. This crown was made of white sweet peas that gave a beautiful halo of delicate blooms, which framed the model's face.
Photographed and styled with the help of Rachel Birkhofer Photography, This shoot was inspired with the intention of capturing the look and feel of old court elopements, which was the initial inspiration for today's courthouse nuptials. The shoot was shot in a former federal courthouse; every room and every corner inspires the romantic, intimate elopement that so many brides want to have.