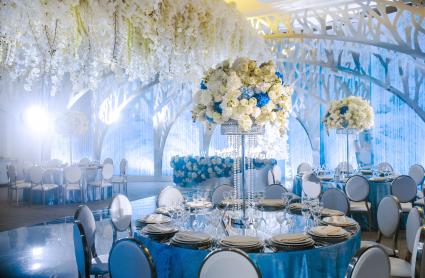 If you dream of a wedding that is filled with fantasy and enchantment, why not try a Cinderella wedding theme? With a little planning and preparation, a Cinderella wedding theme can turn your wedding into a fairy tale fantasy come true. When planning a Cinderella wedding, it always pays to watch the movie Cinderella. Send out invitations with a scroll placed in tubular containers. You want to make sure that your guests have the impression that they are going to a fairy tale wedding. Go for images that have a glass slipper or a magic want to print on your invitations.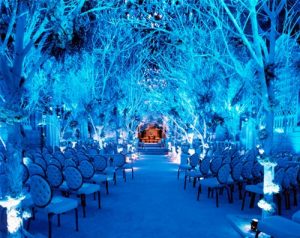 Try a font that appears like calligraphy and then seal it with wax. Colors for a Cinderella wedding theme include ivory, pale pink and white. Keep red down as much as possible in the overall decorations. Your bridesmaids can carry a bouquet of pink and white roses as well. When choosing a wedding dress, the bride should go for a bell-shaped gown. Pair it with a matching pearl necklace and earrings as accessories. Have a pair of comfortable glass-looking shoes as well. On the other hand, the groom should don a black tux with tails. Have the ring bearer hand carry the ring inside a glass slipper on a pillow. When it comes to location, the ballroom would be an ideal venue for a Cinderella wedding theme. A historic mansion with a cascading staircase and a lovely entrance for the wedding couple at the reception would also make for a dramatic location as well.
Try using props such as glass slippers, pumpkin coach and red carpet, which you can rent from costume shops and theater companies. Meanwhile, at the reception, small bouquets of camellia, gardenia, lilacs, tulips and roses surrounded by white-colored votive candles also create a great accent for your table tops. For added magical touch, you can sprinkle table tops with glitter or hang small magic wands from behind each chair. Serve classic dishes such as chicken or steak on china or crystal. Also, you may want to go for an ice-sculpture shaped like a slipper for your cake table. Make sure you have a number of waltzes in your collection with tracks from the movie. Don't forget to give away thank you cards in Cinderella-inspired accents too. Your Cinderella wedding theme should be about beauty, love and of course, the bride and groom. Make this momentous event an experience truly worth cherishing.