Wedding Gowns For Your body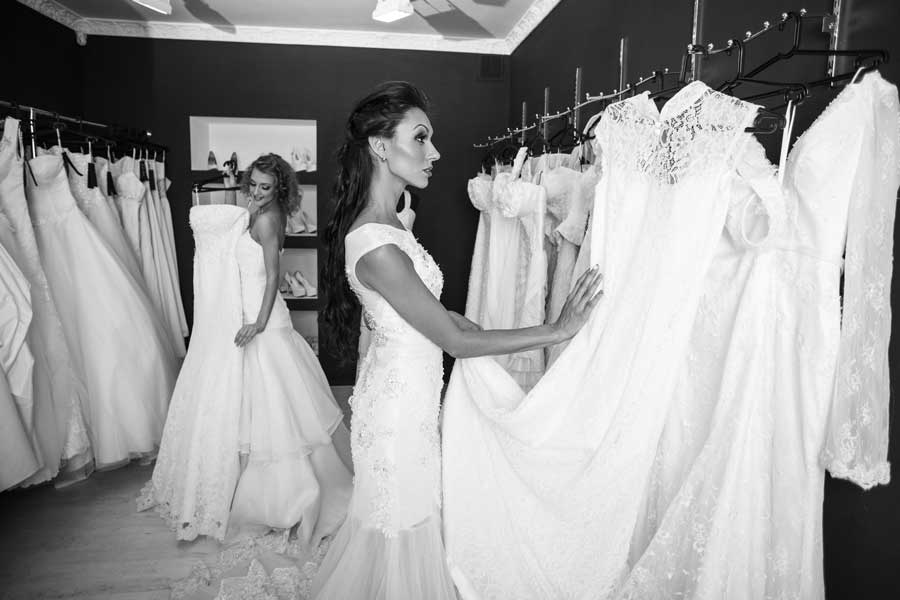 Because you have your own unique shape, certain styles and silhouettes may flatter your figure more than others. Here are descriptions of four basic body-types that may help you to find the most flattering styled wedding gown for your body.
Rectangle – These body-types are relatively rare and are characterized by well-shaped, childlike bodies and small breasts. With delicate hands and feet, and heads that are proportionally larger than average, rectangle types tend to have a slight "pot belly" even if they are not overweight. The hotspots for gaining weight are the abdomen, thighs and love handles. A couple of good examples of rectangle body types are Nancy Reagan and Vanna White.
Shoulder pads, and fabric that is poufed at the hips and cinched in the waist are good choices for rectangle types. It helps to add the illusion of more curves. A few more choices of styles may include Peplums, Ball Gowns, Bouffant, Bustles, and Basque Waist
Triangle types – (or pear shapes) have pronounced lower torsos, flat stomachs prominent rears that are one to two sizes larger than their top. Triangle types tend to gain weight in their rears and thighs. They are also prone to saddlebags while their stomachs and waists remain relatively flat and neat. Goldie Hawn is a good example of a slender triangle body type.
It is best that triangle types always wear shoulder pads to broaden their shoulders and balance their hips (or the Gigot style, or Leg-Of-Mutton style is a great choice) Styles with pleated bottoms that focus on the triangle types small waists helps to even out the upper and lower body proportions. Lots of detailing on the top (that helps to draw the eye upward, and focusing attention away from the hips), and styles that cover the hips are also flattering.
Hourglass figures – have fairly broad shoulders and are the most balanced of the body-types. If an hourglass gains weight, it's usually in the thigh, stomach and love handle areas, while the waist remains evident.
Hourglasses that aren't overweight can wear almost any style they want because their shoulders and hips are proportionally balanced. Wearing styles that are straight, tapered and nipped at the waist creates a sleek, sophisticated look that can greatly accentuate the positive attributes, (e.g. princess, sheath and Basque styles). To avoid a top heavy or busty look unfussy, simple tops should be worn. Larger boned hourglasses should avoid belted looks unless covered by a jacket. Otherwise styles that nip in at the waist are much more flattering (e.g. Basque and princess styles). Elizabeth Taylor is a classic example of an hourglass.
Wedge body-types – generally have broad shoulders, flat rears, straight legs and a tapered rather than defined waist. They also may be top heavy. If weight is gained, it shows in the midriff, stomach, breasts, and arm areas with the rear and thighs remaining slender. With Wedge types, it's best wear styles that show off their narrow hips and camouflage the large bus, upper arms, and midriff (e.g. tapered dresses worn with a wrap or shawl).