Oh-So-Stylish & Wildly Romantic Elopement in Hawaii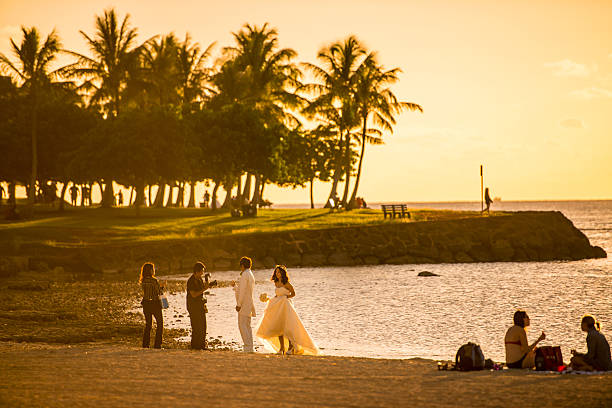 And I'm sure I'm not alone when I say I'm obsessed with lots of weddings (backyard barbecues, boho-themed bashes, and city weddings, industrial locations, and celebrations of different cultures are among my favorite weddings). However, my favorite addition to the ranks must be Elopements.
There's nothing quite as effortless, stylish, or as unabashedly romantic as going off in secret for a wedding ceremony.
What I like about this stunning actual wedding (aside from the bride's amazing gown!) is that it's the best of both.
With all the intimacy and excitement that comes with an elopement and the unique memories of having their families with them, Jen & Matthew said their vows on Kauai, Hawaii – with just six guests at the wedding.
The intimate ceremony in the garden overlooking the ocean and the dreamy sunset portraits on the beach were filmed with the help of Sea Light Studios and coordinated through Modern Elopement.
Admire this chic couple and their beautiful day, and check if they are able to convince you to reduce your guest list drastically…
Our Wedding
My husband and I decided on a smaller and intimate wedding due to a variety of reasons.
One of the primary reasons we had was to make our wedding solely about us. We didn't want to be caught up with the pressure of making others happy when the wedding should be all about the bride and groom.
We were aware that our wedding day was going to be the most significant day of our lives, and we decided to be surrounded by the people who were most important to us.
We didn't stress over the seating plan or needing to invite only certain guests. We had six guests, and there was no seating plan.
The small size of the wedding allowed my husband and me to relax and have the time of our lives, celebrating a day that was relaxed and comfortable. The only thing I was stressed about was the rain that fell the morning of.
Hawaii did not let us down! We were blessed with stunning, colorful rainbows. A Ukulele player performed "Somewhere Over the Rainbow" while I strolled through the aisle.
An intimate wedding also permitted us to spend money on our entire family with a gorgeous candlelit reception dinner in St. Regis as well as other events throughout the trip, like luaus, sunset cruises, and even a dinner cruise.
The wedding/honeymoon we had was amazing because our families could enjoy time with each other on the gorgeous Island of Kauai.
I'm able to say with certainty that I was the happiest and most relaxed bride of all the weddings I've participated in.
A small, intimate wedding was certainly one of the best choices our husband and I have made!