Expert Advice on How to Choose a Flower girl Dress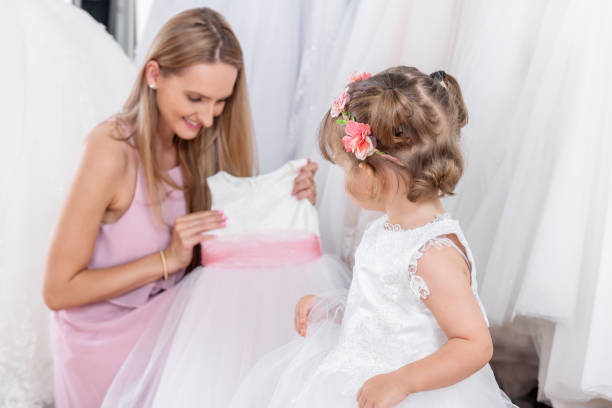 Dressing your flower girl, who is often the sweetest and cutest member of your wedding, allows you to embrace your inner child. You can be playful, indulge in your inner child, and add a new element to your wedding style. It can be not easy to find clothes for a child if you are not used to it.
We're lucky to have the lovely team at Les Trois Soeurs (a beautiful bridal boutique in London that has the prettiest dresses for flower girls), who are happy to share their advice and tips.
After you choose your wedding dress and the dresses for your bridesmaids, you will have a better idea of the style you want to achieve on your wedding day.
There's one dress left to be taken care of, and it is the most adorable dress of them all: The flower girl dress.
Now that you know what you will look like as you walk down your aisle with your bridal party, finding the right gown for your littlest bride should be easy!
Here are some of Les Trois Soeurs' quick tips for choosing a flower girl dress:
The Perfect Fit
The fittings for flower girls are different than those of bridesmaids and wedding gowns. This is a good thing!
Your bridal gown must fit your body perfectly, and the hem must be perfect. With the little ones, you can be more flexible.
Don't be concerned about the hemline. It's fine for flower girls to wear dresses that are a bit off the ground. This can even extend to the ankles.
One Size Up
Since flower girls are often quite young, there will likely be some growth between the time you choose the dress and your wedding day. But don't worry about this!
You can order a size up or two from the current size of her clothing (depending on when you are requesting and how old your child is).
Bonus Knowledge: Dresses made to order from Dessy Girl or Nicki McFarlane have a seam allowance of about 1 inch, which makes them easy to adjust if your child grows faster than you expected.
No Appointment Necessary
Before ordering, flower girls don't have to try on the dress. If you're pressed for time, it may be possible to avoid fittings.
You can order your flower girl's dress online at Les Trois Soeurs Online Boutique.
If you prefer to see your flower girl wearing her dress, you can ask her to try it on that day and have it measured.