Stand Out At A Wedding – Inspirational Buttonhole Ideas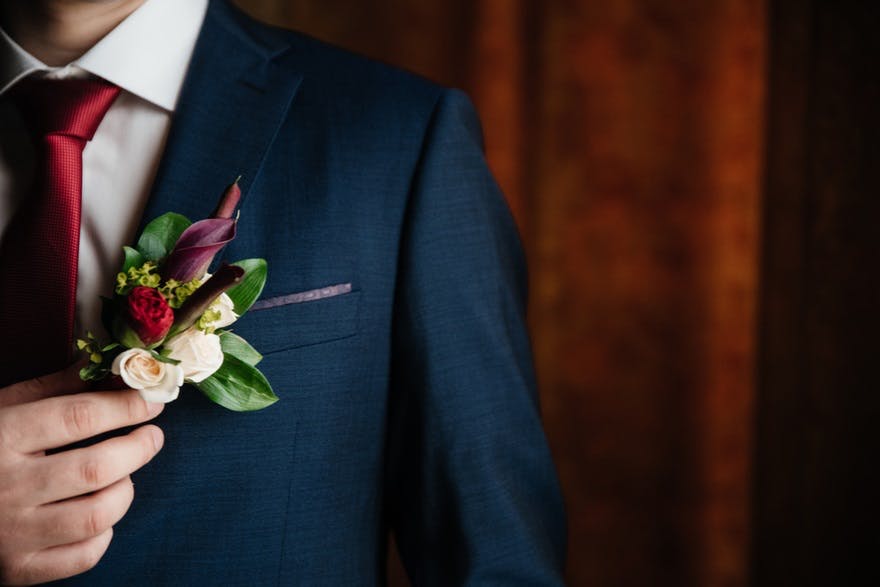 Similar to the tradition of decorating a wedding with bouquets of flowers, the custom of wearing buttonholes originates from ancient Greece. Legend has it that all males attending weddings during this ancient era would wear a small bunch of flowers in a buttonhole, mixed with aromatic herbs in order to ward off evil spirits, which would turn the groom's love towards the bride sour.

It was not until medieval times when buttonholes travelled to England when knights and chivalry would wear a flower matching their lady's colour upon their chest as a symbol of his eternal love.
Along with flowing white wedding gowns denoting pureness and virginity and the unmarried bridesmaids all wrestling to catch the bride's bouquet of flowers in the belief that they if they do manage to catch it, they will be the next to be married, buttonholes are one of many traditional wedding protocols.

Although as we edge our way through the 21st century there seems to be an increasing trend to drift off the conventional wedding trail that has been engraved into mainstream culture for centuries. One way to maintain a novel twist suitable for a 21st century wedding is to get adventurous with buttonholes!

Opt for artificial
Whilst with real flower buttonholes one is somewhat limited to a particular season and the natural hues Mother Nature courteously formulates, with artificial alternatives, the sky really is the limit. Instead of the euphoric bride-to-be being plunged into disappointment when the florist tells her she will be unable to pin the white carnations she'd got her mind set on, on the dresses of her beautiful bridesmaids because it isn't the right time of year, with artificial buttonholes such disappointment is literally impossible.
Exoticness and splendour
Whilst a simple rose was 'just the job' not so long ago, modern soon-to-be newlyweds are demanding a more exotic species of flower to be pinned to the suits and dresses of guests. Buttonholes bursting with the likes of orchids, lilies and even funky new snowberries are now in hot demand. Although as such funky and more exotic class of flowers are not always readily available in a florist, not to mention cost a darn sight more than more traditional choices, artificial buttonholes provide you with access to a wide range of exotic, glamorous and striking flowers, instantly, less expensively and perennially.
Take, for example, Silk Blooms' Ivory Calla Lily. This stunning and modern ivory calla buttonhole will provide a totally unique edge to a groom's wedding day attire. Both the flower and the ribbon in this bespoke buttonhole can be changed to suit your wedding's theme – A fantastic choice for those with aspirations to bring some interesting features to their wedding.
The vintage look
Vintage weddings are increasing in prominence and popularity and to truly embark on a vintage-inspired wedding, a gypsophila flower would be a fabulous choice of buttonhole. These tiny, delicate flowers would make great choice of buttonhole for brides and grooms aspiring to create a vintage-style wedding.