Founding Fathers: 5 Old-School Tattooers That Changed The Game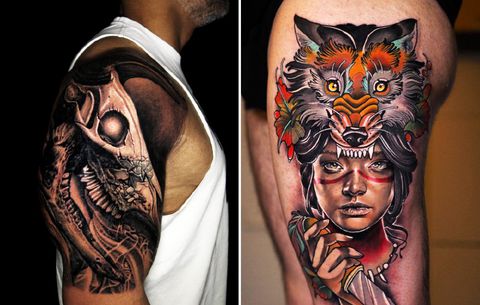 When you think of the tattoo artists that made tattooing what it is today, your mind is often drawn to the likes of Ed Hardy, Sailor Jerry, Jack Rudy and Lyle Tuttle. These people were a part of a generation of tattooers that helped change the industry from an underground subculture into a respectable art form. Whilst nothing can be taken away from these individuals, they were not the first to push tattooing in the right direction. At the turn of the 20th century a number of artists rose to prominence and took tattooing to places it had not been before. They blazed the trail that future artists would follow. Admittedly there are dozens of artists who don't get the recognition they deserve. Honourable mentions go to Tatts Thomas, Paul Rodgers and Huck Spaulding, who each in their own right are tattoo legends).
In my opinion, the below five artists can actually be considered as the main founding fathers of the modern industry. Bert Grimm, photo from Google / Pinterest (source unknown)
1. Bert Grimm (1900-1985)
Decades after his passing, the name of Bert Grimm still carries weight within the tattoo business. A pioneer of the art form Grimm sealed his legacy with bold designs and iconic flash and did so from humble beginnings. Running away from home at 15 Grimm found work with travelling carnivals and sideshows where he learnt to tattoo. After a few years traveling the states Grimm spent some time learning from the likes of George Fosdick and Charlie Barrs, two significant tattoo artists of the time. Bert Grimm Sundance design, photo from Google / Pinterest (source unknown)
Grimm eventually settled in St. Louis, Missouri, opening his own shop in 1928 where he spent the next 26 years working. In that time Grimm honed his skills and formed the look he's still known for today. Preferring a stripped down American traditional style with simple designs and a limited colour palette, Grimm designed some of the classic old school tattoos, most notably the stunning Sundance Girl, the timeless sun and moon design and of course the Grimm tiger head.Lyle Tuttle's back by Bert Grimm, photo from Google (source unknown)
As an artist Grimm gave his life to tattooing, spending seven decades with his machine in hand and in the process creating a style that's still referenced and recreated to this day. If anyone put 'traditional' on the map, it was Grimm. Fellow tattoo legend Lyle Tuttle had his backpiece tattooed by Grimm through 1957-8 and the 'duel in the sun' looks as good today as it ever did. A true testament to the skills and quality Grimm held. Percy Waters, photo from Google / Pinterest (source unknown)
2. Percy Waters (1888-1952)
A common trait of the early 20th century tattooers is that they were all rather reserved and kept largely to themselves. No one embodied that more than Percy Waters. First exposed to tattooing at a local circus, Waters took to tattooing friends and locals as a hobby. He even travelled to nearby cities to see other artists. Sadly for Waters not everyone was a fan of his new interest and after tattooing 'the wrong person', he was asked to leave his hometown and sent packing.  Percy Waters pin-ups tattoo flash, photo from Google / Pinterest (source unknown)
Finding himself in Detroit, Waters billed himself as 'just a good tattooer'and tattooed some of the cities dedicated tattoo collectors and more notable residents. At the same time he began a successful supply operation building and manufacturing his own machines and needles. By 1939 Waters had retired to his hometown where he continued to produce machines until his death in 1952. Percy Waters pin tattoo flash, photo from Google / Pinterest (source unknown)
The typical old school tattooer Waters focused more on his work than reputation and let his flash and tattoos do the talking. Known for his clean American traditional style, Waters had a way with women and created numerous pin-ups and portraits that are still used today (I have one of my own tattooed by Dan Williams).
He was likewise noted for his bold use of red and black in designs. Proving the artist is just as important as the tattoo, Waters remains a significant figure in tattoo history and one that often gets overlooked.
3. Cap Coleman (1884-1973)
August Coleman (aka Cap Coleman) is arguably the first real 'tattoo character' of the 20th century – the Sailor Jerry before Sailor Jerry, if you will. Coleman claimed his father was a tattoo artist but many of his contemporaries held doubt on his story and it only added to his mystery. His origins to this day remain buy viagra online pakistan somewhat unclear, he himself had an extensive collection of tattoos but again was often vague on who did them, though they were most certainly done before the use of machines and would have been poked in by hand.
What is known however is that Coleman owned a shop in Norfolk, VA, and established himself as a must-see tattooer. Based in the more 'colourful' part of town Coleman mostly tattooed sailors and workers but was heavily featured in magazines of the time. Known to be rather sure of himself Coleman's business card simply listed the magazines he had been featured in and no address. Instead it simply read "Look for Coleman's place on Main Street".
The fact that Coleman's character is often more famous than his work does not take anything away from his tattoos. A true pioneer of the bold American traditional style we know and love today, Coleman favoured classic designs like dragons, eagles, pin-ups and anything maritime, packing them with plenty of colour and character. An ever present character in the tattoo world, Coleman was found dead in 1973 after falling in a river. His tattoos and flash however live on, inspiring countless artists around the world. Christian Warlich design by Steve Byrne, photo from Steve's Instagram
4. Christian Warlich (1891-1964)
German tattoo artist Christian Warlich had an unusual start in tattooing to say the least. Opening a pub in 1919, Warlich's business proved a great success because aside from selling beer it also had a room where you could get tattooed. Alcohol and tattoos are never a bad mix, right? Well, for Warlich they weren't. Regarded as one of the top tattooers of his time, Warlich is seen as the first real artist in Germany and was believed to the first person in the country to use an electric tattoo machine. To this day he is seen as the father of German tattooing. Christian Warlich, photo from Google / Pinterest (source unknown)
In his 40 year career Warlich tattooed an incredible 50,000 people, including royalty. Two of his most notable clients were Prince Axel and Prince Viggo of Denmark. Famed for bright traditional tattoos, Warlich's designs are still widely popular today and you'll probably recognise a good number of them.Contemporary artist Steve Byrne is well known for his use and appreciation of Warlich's designs and flash. Warlich himself, like many artists of the time, saw tattooing as a respectable business and went as far to claim that "a decent tattooer does not tattoo a face".
A true tattoo gentleman Warlich earned his place in tattoo history and often doesn't get the wider appreciation he deserves. He also created one of the most sought after flash books in tattoo history. Even with modern reprints the book acts as a Holy Grail for many established artists and there flash collection. Christian Warlich flash book, photo from Google / Pinterest (source unknown)
5. Amund Dietzel (1891-1974)
You couldn't talk about old-school tattooers without mentioning the iconic Amund Dietzel and the countless designs he created. Taking to sea and leaving his native Norway at 15, Dietzel learned tattooing the maritime way – with rolling waves and plenty of sailor-shaped canvases. That was until his ship was shipwrecked in Canada, after which the young artist made his way to New Haven, Connecticut looking for work. Work that came in the shape of tattooing. Amund Dietzel dragons, photo from Google / Pinterest (source unknown)
Travelling and tattooing in Connecticut, New York, Detroit and Ohio Dietzel eventually settled in Milwaukee around 1919 and spent the next few decades tattooing until the city outlawed the industry in 1967. As highly regarded today as he was in his prime, Dietzel pioneered the American traditional style and created a number of famed designs. Snake heads, dragons, eagles, tiger heads and of course 'the Dietzel girl' were all signature pieces by him and even today remain some of the more popular old-school tattoo designs. You can't have a traditional collection without a bit of Dietzel on your skin! Amund Dietzel, photo from Google / Pinterest (source unknown)
As an artist, Deitzel embraced his maritime roots and blended them perfectly with the growing American traditional style – someone who truly made tattooing better. Dietzel is an artist we can still appreciate and learn from today. Grimm, Waters, Coleman, Warlich and Dietzel time and again set the bench mark for tattooing and to this day they still do. There is a reason their work is considered the pinnacle of old-school tattooing and boasts the claim of being a 'classic design'. Simply put, these guys put tattooing on the map!